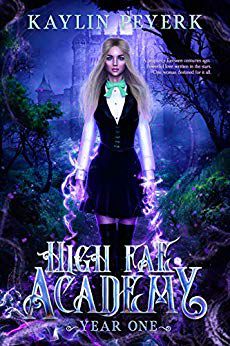 Prix or Price : 2,99€ en numérique (242 pages) et 12,70€ en broché
Editeur : Independently published (5 novembre 2019)
Collection : High Fae Academy
Langue : Anglais
Note Amazon, Goodreads : 4*
Note Booknode : Liste d'or
A few words about the author :
Her name is Kaylin Peyerk, and I live in the beautiful state of Michigan. She has five full bookshelves, a bursting Kindle library, and a total love for the written word. Her favorite genres to read are paranormal romance, fantasy, and the occasional contemporary novel. She is a lover of swimming, video games, and her golden retriever/corgi mix.

Are you looking for your next High Fae Academy fix?

Well, look no further! If you sign up for her author email list you will receive an exclusive never before seen prologue for High Fae Academy: Year One featuring Tiana's mother!

This short chapter can only be found through my email list so don't miss out!

https://mailchi.mp/2649dd53fa7b/kayli...

Join her author Facebook group to discuss the books!

https://www.facebook.com/groups/Kayli...

Check out her social media and author website:

https://www.facebook.com/kaylinpeyerk...

https://www.instagram.com/kaylinpeyer...

https://twitter.com/KPeyerk

https://kaylinwritesromanc.wixsite.co...
Quelques mots sur l'auteure :
Elle s'appelle Kaylin Peyerk, et je vis dans le magnifique État du Michigan. Elle a cinq étagères pleines, une bibliothèque Kindle qui explose et un amour total pour l'écriture. Ses genres préférés sont le romantisme paranormal, la fantaisie et, à l'occasion, le roman contemporain. Elle aime la natation, les jeux vidéo et son mélange de golden retriever et de corgi.
Vous cherchez votre prochaine dose de High Fae Academy ?
Ne cherchez pas plus loin ! Si vous vous inscrivez à la liste de diffusion de son auteur, vous recevrez un prologue exclusif et inédit de la High Fae Academy : La première année avec la mère de Tiana !
Summary :
Prophecies suck and being the "chosen one"? It's not all it's cracked up to be.

I was happy living my simple human life, but—as a Halfling—I can only pretend to be normal for so long. I never had any interest in attending the High Fae Academy for Gifted Supernaturals, but avoidance can only get you so far.

Sure, student life isn't all terrible. I have five sexy Fae males who all want a piece of me. The only downfall is that I have to choose between them. Not. Easy. Especially when my magic isn't making my decision any easier. I can control all five elements, and the guys? Well… each facet of my magic draws me to a specific man—to the element's perfect match.

According to some prophecy I've never even heard, I'm destined to end the war between the Light and Dark Fae. Me. A half human.

I'm about to set off on a dangerous and sexy ride that is supposed to bring peace to a war ravaged world all while maintaining a decent grade point average.

No pressure, right? Wrong.

This book is a medium burn paranormal romance that is suited for new adult audiences.
Tiana is an elemental fae who can control all five of the Earth's elements, but all she's ever wanted is to have a normal life. Because of this, she has spent her entire existence avoiding the High Fae Academy for gifted supernaturals. After a successful twenty-one years of avoidance, a prophecy describing the next Great War leads academy recruiter Orin to her home. He offers her a new start, an explanation, and training for her wayward power. Tiana can't help but accept when she feels a draw toward him that leaves her breathless. Little does she know that her powers are more than anyone had bargained for. Disclaimer: This book is a paranormal romance that contains sexual content that may not be appropriate for young readers under the age of 18.
Résumé :
Tiana est une fée élémentaire qui peut contrôler les cinq éléments de la Terre, mais tout ce qu'elle a toujours voulu, c'est avoir une vie normale. Pour cette raison, elle a passé toute son existence à éviter l'Académie des Hautes Fae pour les surnaturels doués. Après 21 ans d'évitement réussi, une prophétie décrivant la prochaine Grande Guerre conduit le recruteur de l'académie, Orin, chez elle. Il lui offre un nouveau départ, une explication et un entraînement pour son pouvoir rebelle. Tiana ne peut s'empêcher d'accepter quand elle ressent un attrait pour lui qui la laisse sans souffle. Elle ne sait pas que ses pouvoirs sont supérieurs à ce que tout le monde attendait. Avertissement : Ce livre est une romance paranormale qui contient un contenu sexuel qui pourrait ne pas convenir aux jeunes lecteurs de moins de 18 ans.
Mon avis :
***ARC reçu en échange d'une chronique honnête***
Je tiens particulièrement à remercier l'auteure pour ce service presse par Facebook.
On y retrouve Tiana qui est une fée et elle peux contrôler les cinq éléments de la Terre. Mais elle rêve d'une vie normale. Elle veux éviter à tout prix la High Fae Academy pour les surdoués. Ayant passée 21 ans à éviter son entrée dans cette école elle ne peux plus y échapper. Un recruteur Orin vient chez elle pour la recruter, elle accepte, étant sous son charme. Elle ne sait pas que ses pouvoirs sont largement plus fort que les autres.
Un premier livre lu d'une traite tellement j'ai adoré l'histoire si addictive, captivante, remplie de suspens et de rebondissements avec des personnages attachants. J'adore la plume de l'auteure.
My mind :
***ARC received in exchange of an honest review***
I would especially like to thank the author for this press service via Facebook.
It features Tiana who is a fairy and she can control the five elements of the Earth. But she dreams of a normal life. She wants to avoid High Fae Academy for the gifted at all costs. Having spent 21 years avoiding entering this school, she can't avoid it anymore. An Orin recruiter comes to her home to recruit her, she accepts, being under his spell. She doesn't know that her powers are much stronger than the others.
A first book read in one go, I loved the story so addictive, captivating, full of suspense and twists and turns with endearing characters. I love the author's writing.