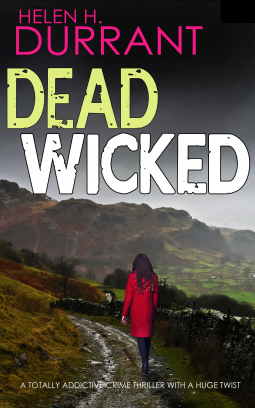 Prix or Price : 2,99€ en numérique (201 pages); 9,48€ en broché et 20,46€ en audiobook
Éditeur : Joffe Books crime thriller and mystery (2 juillet 2020)
Langue de lecture : Anglais
Nombres de livres dans la série : le dixième.
Note Amazon, Bookbub, Goodreads & Netgalley : 5*
Summary :
Looking for a brilliant best-selling crime mystery with great detectives?

DETECTIVES CALLADINE AND BAYLISS HUNT FOR A VICIOUS KILLER

The first victim is found on waste ground. His tongue has been cut out and stuffed down his throat.

Then another body is found dumped in a lake up in the hills. The same gruesome murder method is used.

And guess who the detectives' new boss is? The incredibly difficult Stephen Greco.

A TWISTED KILLER . . . AND A WICKED TWIST

Meanwhile Ruth Bayliss's personal life is falling apart and someone is targeting local businesses with ransomware.

The prime suspect is a criminal Calladine thought he'd seen the last of.

WHO'S THE SERIAL KILLER AND WHO'S NEXT ON THE LIST?

Discover an absolutely unputdownable crime thriller from a best-selling author.

IN AN ENDING WITH A MASSIVE TWIST, THE DETECTIVES FIND EVERYTHING THEY BELIEVED IS WRONG.

If you like Angela Marsons, Rachel Abbott, Mel Sherratt, Ruth Rendell, or Mark Billingham you will enjoy this exciting new crime fiction writer.

DEAD WICKED is book ten of a new series of detective thrillers featuring D.S. Ruth Bayliss and D.I. Tom Calladine.

WHAT READERS ARE SAYING ABOUT THE SERIES
Résumé :
Vous êtes à la recherche d'un brillant roman policier à succès avec de grands détectives ?
LES DÉTECTIVES CALLADINE ET BAYLISS TRAQUENT UN TUEUR VICIEUX.
La première victime est retrouvée sur un terrain vague. Sa langue a été coupée et enfoncée dans sa gorge.
Puis un autre corps est retrouvé jeté dans un lac dans les collines. La même méthode de meurtre macabre est utilisée.
Et devinez qui est le nouveau patron des détectives ? L'incroyablement difficile Stephen Greco.
UN TUEUR TORDU... ET UN COUP TORDU
Pendant ce temps, la vie personnelle de Ruth Bayliss s'effondre et quelqu'un cible les entreprises locales avec un ransomware.
Le principal suspect est un criminel dont Calladine pensait avoir vu la fin.
QUI EST LE TUEUR EN SÉRIE ET QUI EST LE PROCHAIN SUR LA LISTE ?
Découvrez un thriller criminel absolument incontournable d'un auteur à succès.
DANS UNE FIN AVEC UN ÉNORME REBONDISSEMENT, LES DÉTECTIVES DÉCOUVRENT QUE TOUT CE QU'ILS CROYAIENT EST FAUX.
Si vous aimez Angela Marsons, Rachel Abbott, Mel Sherratt, Ruth Rendell ou Mark Billingham, vous apprécierez ce nouvel auteur de romans policiers passionnant.
DEAD WICKED est le dixième tome d'une nouvelle série de thrillers policiers mettant en scène la détective Ruth Bayliss et le détective Tom Calladine.
Ma chronique :
Je tiens à remercier les éditions Joffe Books et le site Netgalley de m'avoir permis de lire ce livre qui est le dixième livre de la série Calladine & Bayliss.
On y retrouve les détectives Calladine & Bayliss qui sont à la recherche d'un tueur vicieux.
Un premier corps est retrouvé la langue coupée et enfoncée dans la gorge sur un terrain vague.
Puis un deuxième est retrouvé dans un lac la même similitude de meurtre utilisée.
Stephen Grego va être leur nouveau patron.
Quant à la vie privée de Bayliss, elle s'effondre car les entreprises locales sont ciblées par un ransomware. Le suspect se trouve être un criminel dont Calladine pensait définitivement mort.
Un livre lu d'une traite tellement j'ai accroché à l'histoire si prenante, captivante, addictive, remplie d'intrigues, de suspens et de rebondissements avec des personnages très attachants. Hâte de lire la série au complet.
My review :
I would like to thank Joffe Books and the Netgalley website for allowing me to read this book which is the tenth book in the Calladine & Bayliss series.
It features Detectives Calladine & Bayliss who are on the hunt for a vicious killer.
A first body is found with its tongue cut out and stuck in its throat on a vacant lot.
Then a second one is found in a lake with the same similarity of murder used.
Stephen Grego is going to be their new boss.
As for Bayliss' personal life, it falls apart as local businesses are targeted by ransomware. The suspect turns out to be a criminal that Calladine thought was definitely dead.
A book read in one sitting so hooked on the story so gripping, captivating, addictive, filled with intrigue, suspense and twists and turns with very engaging characters. Can't wait to read the whole series.