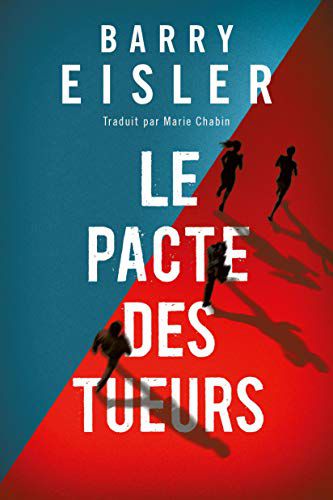 Prix or Price : 4,99€ en numérique (499 pages) et 9,99€ en broché
Éditeur ‏ : Amazon Publishing France / ‎ Thomas & Mercer (24 novembre 2020)
Langue ‏ : ‎ Français
Traduit par : Marie Chabin

Note Booknode :

Liste d'or

Note Amazon, Babelio, Goodreads & Netgalley :

4*
Biographie de l'auteur :
Après avoir travaillé trois ans au sein de la CIA, Barry Eisler a exercé le métier d'avocat spécialisé dans les nouvelles technologies, puis de responsable de start-up dans la Silicon Valley et au Japon, où il obtient sa ceinture noire au Kodokan Judo Institute.
Plusieurs fois récompensés et traduits dans presque vingt langues, les polars de Barry Eisler – dont le best-seller The Detachment – figurent sur de nombreuses listes de meilleures ventes.
Eisler vit dans la Baie de San Francisco. Lorsqu'il n'est pas plongé dans l'écriture d'un roman, il tient un blog sur la torture, les droits civiques et l'état de droit. Pour plus d'informations, connectez-vous sur www.barryeisler.com.

Author's Biography :
After three years in the CIA, Barry Eisler worked as a technology lawyer, then as a start-up manager in Silicon Valley and in Japan, where he earned a black belt at the Kodokan Judo Institute.
Barry Eisler's award-winning thrillers, including the bestselling The Detachment, have appeared on numerous bestseller lists and have been translated into nearly 20 languages.
Eisler lives in the San Francisco Bay Area. When he's not writing a novel, he blogs about torture, civil rights and the rule of law. For more information, log on to www.barryeisler.com.
Résumé :
Sans loi pour les protéger, leur seule issue est la vengeance.
Dans le cadre d'une enquête sur un réseau de pédopornographie international, la détective Livia Lone est visée par un complot qui vire au fiasco. Soupçonnant le FBI d'être derrière l'attaque, Livia fait appel à l'ancien sniper des Marines, Dox. Ensemble, ils mettent sur pied un groupe spécial, dont fait partie John Rain, expert en « morts naturelles » à la retraite, pour identifier et neutraliser la menace qui pèse sur eux. La bande compte également Delilah, agent du Mossad et spécialiste des « pièges à miel », ainsi que les soldats des opérations secrètes Ben Treven, Daniel Larison et leur ancien commandant, le colonel Scot "Hort" Horton.
De Tokyo à Seattle, de Washington à Paris, le groupe devra déjouer une série de conspirations étroitement liées, chacune se rapprochant un peu plus des hautes sphères du gouvernement américain.
Entre loyautés incertaines, motivations douteuses et enchevêtrements amoureux, les sept agents auront du mal à travailler en équipe. Mais dans un contexte aussi tumultueux, mieux vaut s'en remettre à un clan de tueurs.
Summary :
A fast-paced, page-turning novel of betrayal, vengeance, and depraved secrets in high places from the New York Times bestselling author of the John Rain and Livia Lone series.

When a joint FBI–Seattle Police investigation of an international child pornography ring gets too close to certain powerful people, sex-crimes detective Livia Lone becomes the target of a hit that barely goes awry—a hit that had been offered to John Rain, a retired specialist in killings appearing to be from "natural causes."

Suspecting that the FBI themselves were behind the attack, Livia reaches out to former marine sniper Dox. Together, they assemble an ad hoc team to identify and neutralize the threat: Rain; Rain's estranged lover, Mossad agent and honey-trap specialist Delilah; black op soldiers Ben Treven and Daniel Larison; and their former commander, SpecOps legend Colonel Scott "Hort" Horton.

Moving from Japan to Seattle to DC to Paris, the group fights a series of interlocking conspiracies, each edging closer and closer to the highest levels of the US government.

With uncertain loyalties, conflicting agendas, and smoldering romantic entanglements, this group is hardly a team. But in a match as uneven as this one, a collective of killers might be just what they need.
Ma chronique :
Je tiens a remercier les éditions Amazon Publishing France / Thomas & Mercer et le site Netgalley pour m'avoir permis de lire ce livre. Trop envie de lire les livres précédents je ne savais pas que c'était un dixième tome.
On y retrouve la détective Livia Lone qui enquête sur un réseau pédopornographique. Elle soupçonne le FBI d'être derrière tout cela, elle va donc faire appel à un sniper des marines Dox. Ils vont monter un groupe spécial avec John Rain à la retraite mais étant spécialisé dans les morts naturelles. Ensemble ils vont identifier et neutraliser la menace qui pèse sur le monde. Allant de Tokyo à Seattle, de Washington à Paris, ils vont tenter de déjouer des conspirations proches du gouvernement américain.
J'ai de suite accroché à l'histoire si prenante, captivante, addictive, remplie d'intrigues, de suspens et de rebondissements avec des personnages très attachants. Hâte de lire la série au complet.
My review :
I would like to thank Amazon Publishing France / Thomas & Mercer and the Netgalley website for allowing me to read this book. I wanted to read the previous books so badly that I didn't know it was a tenth volume.
We find the detective Livia Lone who investigates a child pornography network. She suspects the FBI to be behind it, so she will call a sniper of the Marines Dox. They will set up a special group with John Rain who is retired but specializes in natural deaths. Together they will identify and neutralize the threat to the world. Going from Tokyo to Seattle, from Washington to Paris, they will try to thwart conspiracies close to the American government.
I was immediately hooked on the story which is so gripping, captivating, addictive, full of intrigue, suspense and twists with very engaging characters. Can't wait to read the whole series.