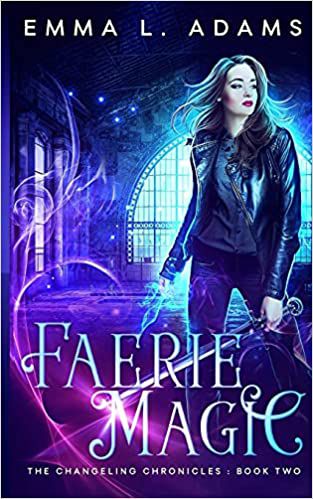 Prix or Price : 3,99€ en numérique; 11,59e en broché (366 pages) et 11,76€ en audiobook
Éditeur ‏ : ‎ CreateSpace Independent Publishing Platform (14 mai 2016)
Langue ‏ : ‎ Anglais
Note Booknode : Liste de diamant
Note Amazon, Goodreads, Bookbub : 5*
Summary :
With the sexy and arrogant Mage Lord pressuring me to join his team and a dark movement in the magical underworld threatening to ignite a war between the half-faeries and other supernaturals, I have my work cut out.

Especially when a serum that's deadly to half-faeries finds its way onto the market, luring in its victims with the promise of immortality.

To find the source of the lies, I have to go undercover to a dangerous magical contest where half-faeries compete for glory. Problem is, to get in, I have to pretend to be one of them.

Navigating my way between half-faeries who want my head on a platter and the Mage Lord who wants, well, me, is tricky enough. But then I learn something about my own magic that changes the playing field. If I don't come out on top, a second faerie apocalypse is on the horizon.
Résumé :
Avec le sexy et arrogant Seigneur Mage qui me presse de rejoindre son équipe et un sombre mouvement dans le monde magique souterrain qui menace de déclencher une guerre entre les demi-faeries et les autres surnaturels, j'ai du pain sur la planche.
Surtout lorsqu'un sérum mortel pour les demi-faeries se retrouve sur le marché, attirant ses victimes avec la promesse de l'immortalité.
Pour trouver la source du mensonge, je dois m'infiltrer dans un dangereux concours de magie où les demi-faeries se disputent la gloire. Le problème est que pour y participer, je dois prétendre être l'un d'entre eux.
Naviguer entre les demi-faeries qui veulent ma tête sur un plateau et le Seigneur Mage qui me veut, eh bien, moi, est assez délicat. Mais j'apprends alors quelque chose sur ma propre magie qui change la donne. Si je ne m'en sors pas, une deuxième apocalypse fée se profile à l'horizon.
Ma chronique :
Ivy est de retour et cette fois ci elle doit faire face au seigneur mage qui veux absolument qu'elle rejoigne ses troupes. Surtout qu'il y a du mouvement dans le monde magique souterrain et cela menace de déclencher la guerre entre les surnaturels et les demi-faeries. Sauf qu'un sérum mortel se retrouve sur le marché pour attirer les demi-faeries en le promettant l'immortalité. Ivy va devoir trouver d'où vient cela en s'infiltrant dans un dangereux concours de magie.
Un livre lu d'une traite tellement j'ai de suite accroché à l'histoire si prenante, captivante, addictive, remplie d'intrigues, de suspens et de rebondissements avec des personnages toujours aussi attachants. Hâte de continuer à lire la série, j'adore la plume de l'auteure si addictive.
My review :
Ivy is back and this time she has to face the mage lord who absolutely wants her to join his troops. Especially since there's movement in the magical underworld and it threatens to spark a war between the supernaturals and the half-faeries. Except that a deadly serum is on the market to lure the half-faeries with the promise of immortality. Ivy will have to find out where it came from by infiltrating a dangerous magic contest.
A book read in one sitting so I was immediately hooked on the story so gripping, captivating, addictive, full of intrigue, suspense and twists and turns with characters as endearing as ever. I can't wait to continue reading the series, I love the author's writing so addictive.