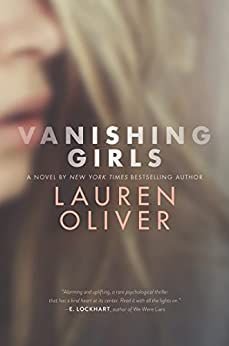 Prix or Price : 4,39€ en numérique; 17,82€ en relié et 8,03€ en broché
Éditeur ‏ : ‎ HarperCollins (8 mars 2016)
Langue de lecture : Anglais
Note Booknode : Liste de diamant
Note Amazon, Babelio, Bookbub, Goodreads : 5*
Summary :
Dara and Nick used to be inseparable, but that was before the accident that left Dara's beautiful face scarred and the two sisters totally estranged.

When Dara vanishes on her birthday, Nick thinks Dara is just playing around. But another girl, nine-year-old Madeline Snow, has vanished, too, and Nick becomes increasingly convinced that the two disappearances are linked. Now Nick has to find her sister, before it's too late.
Résumé :
Nick et Dara sont deux sœurs aux caractères bien distincts. En quelques mois, leur vie bascule : leurs parents divorcent, un amour se brise et un accident de voiture a lieu. Nick était au volant mais a tout oublié. Dara a de nombreuses séquelles et se souvient, puis décide de disparaître en laissant un message énigmatique. Nick met tout en œuvre pour la retrouver.
Ma chronique :
Depuis le temps que je voulais lire ce livre, voilà qui est fait.
On y retrouve Nick et Dara qui sont sœurs et on chacune leur caractère. En très peu de temps, leur vie bascule, leurs parents divorcent, un amour est rompu et elles ont un accident de voiture. C'était Nick qui conduisait et elle ne se souvient de rien. Quant à Dara elle à de sérieuses séquelles, elle se rappelle tout et décide de disparaître en laissant un mystérieux message. Nick va tout faire pour la retrouver.
Un livre lu d'une traite tellement j'adore la plume de l'auteure si addictive et que j'ai de suite accroché à l'histoire si émouvante à certains passages, captivante, prenante, addictive, remplie d'intrigues, de suspens et de rebondissements avec des personnages très attachants.
My review :
I've been wanting to read this book for so long, and now I have.
We find Nick and Dara who are sisters and we each have their own character. In a very short time, their lives change, their parents divorce, a love is broken and they have a car accident. It was Nick who was driving and she doesn't remember anything. As for Dara, she has serious after-effects, she remembers everything and decides to disappear, leaving a mysterious message. Nick will do everything to find her.
A book read in one sitting so much I love the author's pen so addictive and I immediately hooked on the story so moving in some passages, captivating, gripping, addictive, filled with intrigue, suspense and twists with very endearing characters.