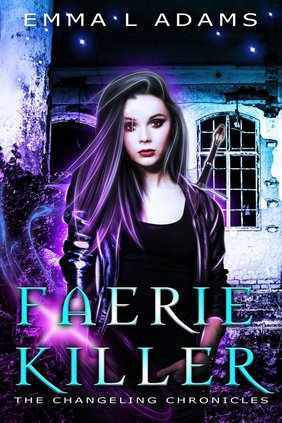 Livre gratuit sur le site de l'auteure (22 pages)
Langue de lecture : Anglais
Nombres de livres dans la série : cette préquelle et 7 livres.
Note Booknode : Liste de diamant
Note Goodreads : 5*
A few words about the author :
Emma spent her childhood creating imaginary worlds to compensate for a disappointingly average reality, so it was probably inevitable that she ended up writing urban fantasy and young adult novels. When she's not immersed in her own fictional universes, Emma can be found with her head in a book or wandering around the world in search of adventure. Visit emmaladams.com/ to find out more about Emma's books, or subscribe to her newsletter (smarturl.it/ELAnewsletter) for new release alerts and a free short story.
Quelques mots sur l'auteure :
Emma a passé son enfance à créer des mondes imaginaires pour compenser une réalité décevante et moyenne. Il était donc inévitable qu'elle se retrouve à écrire des romans de fantasy urbaine et pour jeunes adultes. Lorsqu'elle n'est pas plongée dans ses propres univers fictifs, on peut trouver Emma la tête dans un livre ou en train de parcourir le monde à la recherche d'aventures. Visitez emmaladams.com/ pour en savoir plus sur les livres d'Emma, ou inscrivez-vous à sa lettre d'information (smarturl.it/ELAnewsletter) pour recevoir des alertes sur les nouvelles parutions et une nouvelle gratuite.
Summary :
This was a fairy tale, all right. Just not the pleasant, happily-ever-after type.

​I'm Ivy Lane, and this is the story of how I became known as the faerie killer.

Ever since the faeries destroyed the world as we knew it, I've been a captive of an evil Sidhe lord, trapped in his realm with a hundred other human prisoners. I'm lucky to still be alive after this long.

With the help of a master swordsman, I've been preparing to make my escape. But to do that, I need to achieve the impossible, and kill an immortal before he kills me first…

Short story exclusively for subscribers of the author's newsletter.
Résumé :
C'était un conte de fées, d'accord. Mais pas le genre agréable et heureux pour toujours.
Je suis Ivy Lane, et ceci est l'histoire de comment je suis devenue connue comme la tueuse de fées.
Depuis que les fées ont détruit le monde tel qu'on le connaissait, je suis la captive d'un méchant seigneur Sidhe, piégée dans son royaume avec une centaine d'autres prisonniers humains. J'ai de la chance d'être encore en vie après tout ce temps.
Avec l'aide d'un maître épéiste, je me suis préparé à m'échapper. Mais pour cela, je dois réaliser l'impossible, et tuer un immortel avant qu'il ne me tue le premier...
Nouvelle exclusivement réservée aux abonnés de la newsletter de l'auteur.
Ma chronique :
Attention cette préquelle ne se trouve que sur le site de l'auteure gratuitement.
On y retrouve Ivy Lane qui est devenue la tueuse de fées.
Les fées ont détruit le monde que l'on connaissait avant. Ivy vit en captivité avec un mauvais seigneur Sidhe. Elle se retrouve piégée avec une centaine de prisonniers humains. Elle a de la chance d'être encore vivante. Avec un homme qui maitrise l'épée elle va s'échapper, mais il va falloir qu'elle tue un immortel avant de se faire tuer la première.
Une préquelle lue d'une traite tellement j'avais envie de découvrir cette série qui est dans ma bibliothèque depuis pas mal de temps et aucun regrets, j'ai adoré. Une histoire prenante, captivante, addictive, remplie d'intrigues, de suspens et de rebondissements avec des personnages très attachants.
My review :
Attention this prequel is only available on the author's website for free.
We find Ivy Lane who became the fairy slayer.
The fairies have destroyed the world we knew before. Ivy lives in captivity with an evil Sidhe lord. She finds herself trapped with a hundred human prisoners. She is lucky to be alive. With a man who masters the sword she will escape, but she will have to kill an immortal before she is killed first.
A prequel read in one go so much I wanted to discover this series which is in my library for quite some time and no regrets, I loved it. A gripping, captivating, addictive story, full of intrigue, suspense and twists with very endearing characters.