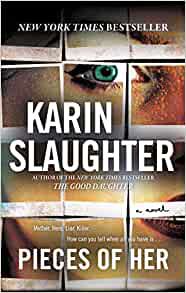 Prix or Price : 6,29€ en numérique; 34,42€ en relié et 7,81€ en poche (495 pages)
Éditeur ‏ : ‎ William Morrow (26 mars 2019)
Langue de lecture : Anglais
Note Amazon, Bookbub & Goodreads : 5*
A few words about the author :
Karin Slaughter is one of the world's most popular and acclaimed storytellers. Published in 120 countries with more than 40 million copies sold across the globe, her twenty-one novels include the Grant County and Will Trent books, as well as the Edgar-nominated Cop Town and the instant New York Times bestselling stand-alone novels Pretty Girls, The Good Daughter, and Pieces of Her. Slaughter is the founder of the Save the Libraries project—a nonprofit organization established to support libraries and library programming. A native of Georgia, she lives in Atlanta. Her standalone novel Pieces of Her is in production with Netflix, starring Toni Collette, and the Grant County and Will Trent series are in development for television.
Quelques mots sur l'auteure :
Karin Slaughter est l'une des conteuses les plus populaires et les plus acclamées au monde. Publiés dans 120 pays et vendus à plus de 40 millions d'exemplaires dans le monde, ses vingt-et-un romans comprennent les livres Grant County et Will Trent, ainsi que Cop Town, nominé pour le prix Edgar, et les romans indépendants Pretty Girls, The Good Daughter et Pieces of Her, qui ont connu un succès immédiat dans le New York Times. Mme Slaughter est la fondatrice du projet Save the Libraries, une organisation à but non lucratif créée pour soutenir les bibliothèques et leurs programmes. Originaire de Géorgie, elle vit à Atlanta. Son roman Pieces of Her est en cours de production avec Netflix, avec Toni Collette, et les séries Grant County et Will Trent sont en cours de développement pour la télévision.
Summary :
Andrea Oliver's mother, Laura, is the perfect small-town mum. Laura lives a quiet but happy life in sleepy beachside Belle Isle. She's a pillar of the community: a speech therapist, business owner and everybody's friend. And she's never kept a secret from anyone. Or so Andrea thinks.

When Andrea is caught in a random violent attack at a shopping mall, Laura intervenes and acts in a way that is unrecognisable to her daughter. It's like Laura is a completely different person - and that's because she was. Thirty years ago. Before Andrea. Before Belle Isle.

Laura is hailed as a hero for her actions at the mall but 24 hours later she is in hospital, shot by an intruder, who's spent decades trying to track her down.

What is Andrea's mother trying to hide? As elements of the past return and put them both in danger, Andrea is left to piece together Laura's former identity and discover the truth - for better or worse - about her mother. Is the gentle, loving woman who raised her also a violent killer?
Résumé :
Laura, la mère d'Andrea Oliver, est la parfaite maman de petite ville. Laura mène une vie tranquille mais heureuse à Belle Isle, une petite ville de bord de mer. C'est un pilier de la communauté : orthophoniste, propriétaire d'une entreprise et amie de tous. Et elle n'a jamais caché un secret à personne. C'est du moins ce que pense Andrea.
Lorsqu'Andrea est victime d'une agression violente dans un centre commercial, Laura intervient et agit d'une manière qui ne ressemble en rien à celle de sa fille. C'est comme si Laura était une personne complètement différente - et c'est parce qu'elle l'était. Il y a trente ans. Avant Andrea. Avant Belle Isle.
Laura est saluée comme une héroïne pour ses actions au centre commercial, mais 24 heures plus tard, elle est à l'hôpital, abattue par un intrus qui a passé des décennies à essayer de la retrouver.
Que tente de cacher la mère d'Andrea ? Alors que des éléments du passé reviennent et les mettent toutes deux en danger, Andrea doit reconstituer l'ancienne identité de Laura et découvrir la vérité - pour le meilleur ou pour le pire - sur sa mère. La femme douce et aimante qui l'a élevée est-elle aussi une tueuse violente ?
Ma chronique :
Depuis le temps que je voulais lire ce livre, voilà qui est fait.
On y retrouve Laura la mère d'Andrea Oliver, elle est la mère parfaite et vie une vie tranquille à Belle Isle au bord de la mer. Elle travaille comme orthophoniste, elle n'aurait jamais rien cacher à quiconque, c'est ce que pense sa fille.
Sauf qu'Andrea est agressée violemment dans un centre commercial, sa mère réagit d'une drôle de façon qui étonne sa fille. Elle était totalement différente trente ans auparavant bien avant sa venue sur Belle Isle. Quant à Laura c'est une héroïne après tous ses événements sauf qu'une journée plus tard elle est abbatue par quelqu'un qui voulait à tout prix la retrouver.
Que cache Laura? Andrea devra à tout pris en savoir plus sur l'ancienne identité de sa mère quoiqu'elle apprenne de bon ou de mauvais.
Un livre lu quasi d'une traite tellement j'ai accroché de suite à l'histoire si prenante, captivante, addictive, remplie d'intrigues, de suspens et de rebondissements avec des personnages très attachants. J'adore la plume de l'auteure.
My review :
Since the time I wanted to read this book, it is done.
We find Laura the mother of Andrea Oliver, she is the perfect mother and lives a quiet life in Belle Isle by the sea. She works as a speech therapist, she would never hide anything from anyone, that's what her daughter thinks.
Except that Andrea is violently assaulted in a shopping mall, her mother reacts in a strange way that surprises her daughter. She was totally different thirty years before she came to Belle Isle. As for Laura, she is a heroine after all these events except that one day later she is shot by someone who wanted to find her at all costs.
What is Laura hiding? Andrea will have to find out more about her mother's former identity no matter what she learns, good or bad.
A book read almost in one sitting, so much so that I was immediately hooked on the story, so gripping, captivating, addictive, full of intrigue, suspense and twists and turns with very endearing characters. I love the author's writing.