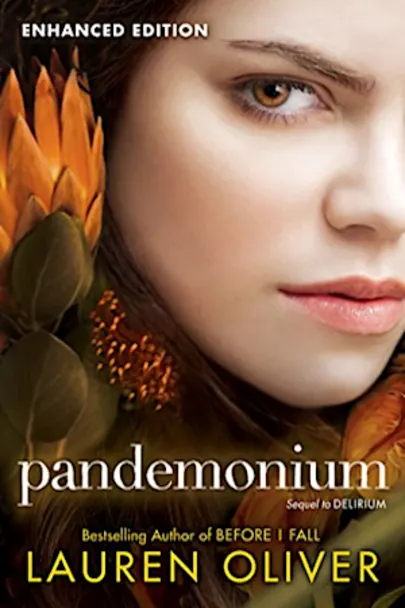 Prix or Price : 0,99€ en numérique; 18,50€ en relié et 11,47€ en broché
Éditeur ‏ : ‎ Hodder & Stoughton (1 mars 2012)
Langue de lecture : Anglais
Nombre de livres dans la série : 3 plus les nouvelles
Note Booknode : Liste de diamant
Note Amazon, Babelio, Bookbub, Goodreads : 5*
Summary :
The old life is dead. But the old Lena is dead too. I buried her. I left her beyond a fence, behind a wall of smoke and flame. In this electrifying follow-up to her acclaimed New York Times bestseller Delirium, Lauren Oliver sets Lena on a dangerous course that hurtles through the unregulated Wilds and into the heart of a growing resistance movement. This riveting, brilliant novel crackles with the fire of fierce defiance, forbidden romance, and the sparks of a revolution about to ignite.
Résumé :
Lena a découvert avec Alex ce sentiment interdit qu'est l'amour. Ensemble ils se sont enfuis, déterminés à gagner la Nature pour vivre leur passion. Mais seule Lena est parvenue à franchir la frontière. Sans savoir si Alex est encore vivant. Aujourd'hui Lena a rejoint la résistance. Elle se voit confier une mission qui pourrait bien lui coûter la vie. Mais une nouvelle rencontre vient remettre en question tous ses principes. Se battre pour avoir le droit d'aimer : cela a-t-il vraiment un sens ? Imaginez qu'on vous prive de tout sentiment. Que la liberté ne soit plus qu'un vieux souvenir dénué de sens. Jusqu'où iriez-vous pour garder le droit d'aimer ? Plongez dans l'inoubliable trilogie DELIRIUM.
Ma chronique :
J'adore cette série un vrai coup de cœur, pourquoi je ne l'ai pas lue avant?
Dans cette deuxième partie on y retrouve Lena qui est amoureuse en cachette d'Alex, elle à découvert ses sentiments depuis peu. Tous les deux ils se sont échappés pour vivre de leur amour, sauf que seule Lena arriver à passer la frontière. Elle ne sait pas si Alex est encore vivant. Alors Lena rejoint la résistance. Elle va devoir accomplir une mission qui pourrait bien lui coûter la vie. Elle est obligée de se battre pour aimer est ce logique? Car dans le monde où elle vit tout le monde est privé de sentiments.
Un livre lu d'une traite tellement j'ai accroché de suite à l'histoire si émouvante à certains passages, captivante, prenante, addictive, remplie d'intrigues, de suspens et de rebondissements avec des personnages toujours aussi attachants. Ce deuxième livre comme les précédents m'a tenu en haleine du début à la fin tellement j'adore la plume de l'auteure.
My review :
I love this series, a real crush, why didn't I read it before?
In this second part we find Lena who is secretly in love with Alex, she discovered her feelings recently. Both of them have escaped to live off their love, except that only Lena manages to cross the border. She doesn't know if Alex is still alive. So Lena joins the resistance. She has to carry out a mission that could cost her her life. She is forced to fight for love, does that make sense? Because in the world where she lives everyone is deprived of feelings.
This book was read in one go, so much so that I was immediately hooked on the story, which is so moving in certain passages, captivating, gripping, addictive, full of intrigue, suspense and twists and turns, with characters who are always so endearing. This second book, like the previous ones, kept me on the edge of my seat from beginning to end, so much so that I love the author's writing.