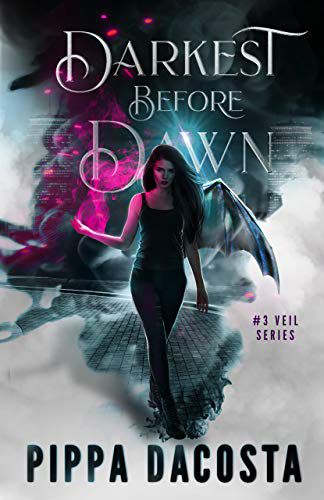 Prix or Price : 4,99€ en numérique (274 pages) et 9,60€ en broché
Éditeur ‏ : ‎ Crazy Ace Publishing (15 octobre 2014)
Langue de lecture : Anglais
Note Amazon, Bookbub, Goodreads : 5*
Summary :
"It's too late to save myself, but I'll save her, even if it kills me."

When Akil leaves a nine year old half-blood girl on Muse's doorstep, it's not long before the demons come hunting, but this time Muse isn't the target. The Institute, Muse's immortal brother, and the Princes of Hell, all want a piece of the little half-blood. What's so special about Dawn, and why has Akil conveniently disappeared just as Muse needs answers?

To save the half-blood girl, Muse must first save herself, but is it already too late? Muse's humanity is failing. Her demon hungers. The darkness coiled around her heart lures her toward madness. And all that stands between Muse and her demon's lust for destruction, is the hope that some half-bloods do get happy endings.

The veil weakens. Titles will fall. A new prince rises. And if Muse can't stop them, the demons will have their day.
Résumé :
"Il est trop tard pour me sauver, mais je la sauverai, même si cela doit me tuer."
Quand Akil laisse une petite fille métisse de neuf ans sur le pas de la porte de Muse, il ne faut pas longtemps avant que les démons ne viennent chasser, mais cette fois Muse n'est pas la cible. L'Institut, le frère immortel de Muse et les princes de l'enfer veulent tous un morceau de la petite demi-sang. Qu'est-ce que Dawn a de si spécial, et pourquoi Akil a-t-il disparu au moment où Muse a besoin de réponses ?
Pour sauver la demi-sang, Muse doit d'abord se sauver elle-même, mais n'est-il pas déjà trop tard ? L'humanité de Muse s'effondre. Son démon a faim. Les ténèbres enroulées autour de son cœur l'attirent vers la folie. Et tout ce qui sépare Muse de la soif de destruction de son démon, c'est l'espoir que certains sang-mêlé connaissent une fin heureuse.
Le voile s'affaiblit. Les titres tombent. Un nouveau prince s'élève. Et si Muse ne peut pas les arrêter, les démons auront leur jour.
Ma chronique :
Depuis le temps que je voulais continuer cette série voilà qui est fait, j'adore trop cette série et la plume de l'auteure.
Dans ce troisième livre tout commence lorsqu'Akil pose sur le pas de la porte de Muse une métisse de neuf ans. Les démons ne mettent pas longtemps a venir mais ce n'est pas pour Muse cette fois ci. Il s'avère que le fameux Institut, le frère immortel de Muse et les princes des enfers veulent un morceau de la jeune métisse demi-sang. Pourquoi Akil à disparu au moment opportun? Qu'a de si spécial la petite Dawn?
Muse va devoir se sauver elle-même avant de sauver la petite Dawn si ce n'est pas déjà trop tard. Sauf que tout s'effondre autour de Muse, son démon intérieur à faim et les ténèbres l'attirent vers la folie. Pourtant Muse ne veux qu'une seule chose c'est que les sang mêlés soit heureux.
Un livre lu d'une traite tellement j'ai de suite accroché à l'histoire si prenante, addictive, captivante, remplie d'intrigues, de suspens et de rebondissements avec des personnages toujours aussi attachants, hâte de continuer à lire la série.
My review :
I have been wanting to continue this series for so long, I just love this series and the author's writing.
In this third book everything starts when Akil lands on Muse's doorstep, a nine year old girl of mixed race. It doesn't take long for the demons to come, but this time it's not for Muse. It turns out that the notorious Institute, Muse's immortal brother and the princes of the underworld want a piece of the young half-blood. Why did Akil disappear at the right time? What's so special about little Dawn?
Muse will have to save herself before she can save little Dawn, if it's not too late. Except that everything is falling apart around Muse, her inner demon is hungry and the darkness is drawing her towards madness. Yet Muse only wants one thing and that is for the mixed blood to be happy.
A book read in one sitting, I was immediately hooked on the story so gripping, addictive, captivating, full of intrigue, suspense and twists and turns with characters as endearing as ever, can't wait to continue reading the series.