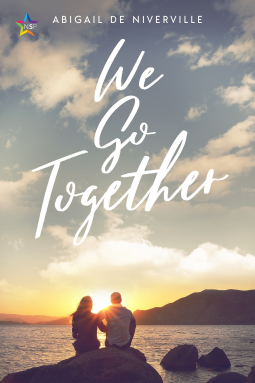 Prix or Price : 2,69€ en numérique (239 pages) et 14,22€ en broché
Éditeur ‏ : ‎ NineStar Press (10 août 2020)
Langue de lecture : Anglais
Note Amazon, Bookbub, Goodreads & Netgalley : 5*
A few words about the author :
Abigail de Niverville is an author, poet, and composer based in Toronto. Originally from the East Coast of Canada, she often is inspired by her hometown. She holds an M.Mus from the University of Toronto.

Abigail's novels WE GO TOGETHER and I KNEW HIM were published by NineStar Press and are both available at most major retailers. Her poetry chapbook POEMS WORTH SAVING is available now in through most major retailers as well.
Quelques mots sur l'auteure :
Abigail de Niverville est une auteure, poète et compositeur basée à Toronto. Originaire de la côte Est du Canada, elle s'inspire souvent de sa ville natale. Elle est titulaire d'une maîtrise en musique de l'université de Toronto.
Les romans d'Abigail WE GO TOGETHER et I KNEW HIM ont été publiés par NineStar Press et sont tous deux disponibles chez la plupart des grands détaillants. Son recueil de poèmes, POEMS WORTH SAVING, est également disponible chez la plupart des grands détaillants.
Summary :
The beaches of Grand-Barachois had been Kat's summer home for years. There, she created her own world with her "summer friends," full of possibilities and free from expectation. But one summer, everything changed, and she ran from the life she'd created.

Now seventeen and on the brink of attending college, Kat is full of regret. She's broken a friendship beyond repair, and she's dated possibly the worst person in the world. Six months after their break-up, he still haunts her nightmares. Confused and scared, she returns to Grand-Barachois to sort out her feelings.

When she arrives, everything is different yet familiar. Some of her friends are right where she left them, while some are nowhere to be found. There are so many things they never got to do, so many words left unsaid.

And then there's Tristan.

He wasn't supposed to be there. He was just a guy from Kat's youth orchestra days. When the two meet again, they become fast friends. Tristan has a few ideas to make this summer the best one yet. Together, they build a master list of all the things Kat and her friends wanted to do but never could. It's finally time to live their wildest childhood dreams.

But the past won't let Kat go. And while this may be a summer to remember, there's so much she wants to forget.
Résumé :
Les plages de Grand-Barachois étaient la résidence d'été de Kat depuis des années. Là, elle a créé son propre monde avec ses "amis d'été", plein de possibilités et libre de toute attente. Mais un été, tout a changé et elle a fui la vie qu'elle avait créée.
Aujourd'hui âgée de dix-sept ans et sur le point d'entrer à l'université, Kat est pleine de regrets. Elle a brisé une amitié irrémédiable et elle est sortie avec la pire personne au monde. Six mois après leur rupture, il hante encore ses cauchemars. Confuse et effrayée, elle retourne à Grand-Barachois pour faire le point sur ses sentiments.
À son arrivée, tout est à la fois différent et familier. Certains de ses amis sont là où elle les a laissés, tandis que d'autres sont introuvables. Il y a tant de choses qu'ils n'ont jamais pu faire, tant de mots non dits.
Et puis il y a Tristan.
Il n'était pas censé être là. C'était juste un gars de l'orchestre de jeunes de Kat. Quand les deux se retrouvent, ils deviennent rapidement amis. Tristan a quelques idées pour faire de cet été le meilleur. Ensemble, ils dressent une liste de toutes les choses que Kat et ses amis voulaient faire mais n'ont jamais pu. Il est enfin temps de vivre leurs rêves d'enfant les plus fous.
Mais le passé ne veut pas laisser Kat partir. Et bien que cet été soit inoubliable, il y a tant de choses qu'elle veut oublier.
Ma chronique :
Je tiens à remercier les éditions NineStar Press et le site Netgalley pour m'avoir permis de lire ce livre.
On y retrouve Kat qui adorait les plages du Grand Barachois sa résidence d'été depuis quelques années déjà. Elle y vivait dans son monde avec ses amis sauf qu'un été tout à basculer et elle a du fuir ce monde.
De nos jours, à dix-sept ans elle rentre à l'université pleine de regrets. Elle à fui ses amis et à eu une relation avec la pire personne au monde. Six mois après elle en fait toujours des mauvais rêves. Pour se changer les idées elle retourne au Grand-Barachois. Une fois là haut tout lui semble différent malgré que certains de ses amis de l'époque soient encore la.
Elle va faire la rencontre avec Tristan et devenir son amie. Ensemble ils font faire ce que Kat et ses amis n'ont jamais pu faire auparavant. Sauf que le passé de Kat la rattrape et pour elle c'est difficile de tout oublier comme ça.
Un livre lu d'une traite tellement j'ai accroché de suite à l'histoire si émouvante à certains passages, captivante, prenante, addictive, remplie d'intrigues, de suspens et de rebondissements avec des personnages très attachants. J'adore la plume de l'auteure. Hâte de découvrir d'autres de ses livres.
My review :
I would like to thank NineStar Press and the Netgalley website for allowing me to read this book.
We find Kat who loved the beaches of Grand Barachois, her summer residence for a few years now. She lived in her own world with her friends except that one summer everything changed and she had to flee that world.
Now, at seventeen years old, she returns to university full of regrets. She ran away from her friends and got into a relationship with the worst person in the world. Six months later she still has bad dreams about it. To take her mind off things she returns to Grand-Barachois. Once there, everything seems different, even though some of her friends from that time are still there.
She meets Tristan and becomes his friend. Together they do what Kat and her friends have never been able to do before. Except that Kat's past catches up with her and for her it's hard to forget everything like that.
A book read in one go so much I was immediately hooked on the story so moving in some parts, captivating, gripping, addictive, full of intrigue, suspense and twists with very endearing characters. I love the author's writing. I can't wait to discover more of her books.