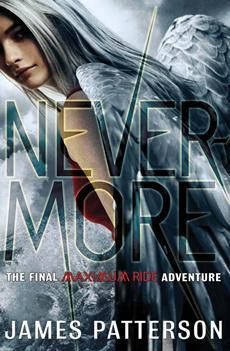 Prix or Price : 8,99€ en numérique (341 pages)
Éditeur ‏ : ‎

Arrow (Young) (14 août 2013)
Langue de lecture : Anglais
Note Booknode : Liste de diamant
Note Amazon, Bookbub & Goodreads : 5*
Summary :
Maximum Ride and her faithful friends stand ready to face the two greatest threats that humankind has ever known--now combining forces in an unbeatable plot to destroy life as we know it once and for all. And this time, the enemy truly can't be stopped. The danger mounts just as the boy genetically engineered to be her "perfect match", Dylan, has finally worked his way into Max's heart--and just as her beloved Fang unexpectedly returns to the flock. An explosive confrontation between the two boys with a claim to Max's heart ensues, and the entire world hangs in the balance.

In this powerful and moving latest sequel in James Patterson's epic fantasy series, fans will finally get the answers they've been waiting for--and an ending full of shock, surprises, and the greatest conclusion you never saw coming.
Résumé :
Maximum Ride et ses fidèles amis sont prêts à affronter les deux plus grandes menaces que l'humanité ait jamais connues, qui unissent leurs forces dans un complot imbattable visant à détruire une fois pour toutes la vie telle que nous la connaissons. Et cette fois, l'ennemi ne peut vraiment pas être arrêté. Le danger s'accroît au moment où Dylan, le garçon génétiquement conçu pour être son "partenaire idéal", a fini par conquérir le cœur de Max, et où son Fang bien-aimé revient de façon inattendue dans le troupeau. Un affrontement explosif entre les deux garçons qui prétendent au cœur de Max s'ensuit, et le monde entier est dans la balance.
Dans cette dernière suite puissante et émouvante de la série fantastique épique de James Patterson, les fans obtiendront enfin les réponses qu'ils attendaient - et une fin pleine de chocs, de surprises et la plus grande conclusion que vous n'avez jamais vue venir.
Ma chronique :
Depuis le temps que je voulais lire cette série, voilà qui est fait, je ne m'attendais pas à cela dans ce livre, j'ai pu avoir les réponses aux questions que je me posais depuis quelques livres déjà.
On y retrouve Maximum Ride qui avec ses amis affrontent les plus grandes menaces que l'humanité n'a jamais connues. Ils vont devoir faire face à une menace qui veux détruire la vie. Sauf que cette menace ne peux être stoppée. Quant à Dylan il est génétiquement conçu pour être le partenaire de Max sauf que Fang revient pour elle aussi. Ils vont s'affronter pour savoir qui aura Max.
Un livre lu d'une traite tellement j'ai accroché à l'histoire si prenante, addictive, captivante, remplie d'intrigues, de suspens et de rebondissements avec des personnages toujours aussi attachants.
My review :
I've been wanting to read this series for a while now, so here it is, I wasn't expecting this in this book, I was able to get the answers to the questions I've been asking myself for a few books now.
We find Maximum Ride who with his friends face the greatest threats that humanity has ever known. They will have to face a threat that wants to destroy life. Except that this threat can not be stopped. As for Dylan, he is genetically engineered to be Max's partner, but Fang comes back for her too. They are going to battle it out to see who gets Max.
A book read in one go so much I was hooked on the story so gripping, addictive, captivating, full of intrigue, suspense and twists and turns with characters still as endearing.