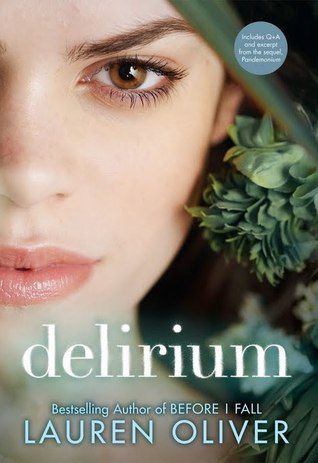 Prix or Price : 0,99€ en numérique; 15,68€ en relié et 8,59€ en broché
Nombre de pages : 520
Éditeur ‏ : ‎ HarperCollins; Special édition (2 août 2011)
Langue de lecture : Anglais
Nombre de livres dans la série : 3 et 4 nouvelles.
Note Booknode : Liste de diamant
Note Amazon, Babelio, Bookbub, Goodreads : 5*
Summary :
In an alternate United States, love has been declared a dangerous disease, and the government forces everyone who reaches eighteen to have a procedure called the Cure. Living with her aunt, uncle, and cousins in Portland, Maine, Lena Haloway is very much looking forward to being cured and living a safe, predictable life. She watched love destroy her mother and isn't about to make the same mistake.

But with ninety-five days left until her treatment, Lena meets enigmatic Alex, a boy from the "Wilds" who lives under the government's radar. What will happen if they do the unthinkable and fall in love?
Résumé :
Lena vit dans un monde où l'amour est considéré comme la pire des maladies. Un monde où tous les jeunes subissent à leur majorité une opération de cerveau pour être immunisés. A quelques mois de ses dix-huit ans, Lena aspire presque à subir à son tour le Protocole car, depuis toujours, amour rime pour elle avec souffrance et danger. Jusqu'à ce qu'une rencontre inattendue fasse tout basculer. Avant, tout était simple, tout était organisé. Mais est-ce vraiment vivre que de laisser la société tout prévoir pour vous. Vos amis, vos amours et votre avenir ?
Ma chronique :
Je suis un grand fan de cette série, J'adore la plume de l'auteure.
On y retrouve Lena qui vit dans un monde où l'amour c'est considéré comme une maladie. Dès leur majorité les jeunes sont opérés au cerveau pour être immunisés. A bientôt sa majorité, Lena se pose des questions sur ce fameux protocole. Depuis son plus jeune âge l'amour c'est souffrance et danger.
Sauf qu'une rencontre va tout basculer. Avant tout était droit, organisé. Faut il réellement vivre plutôt que de laisser la société faire tout à notre place? Choisir nos amis, nos amours, notre avenir aussi?
Un livre lu d'une traite tellement j'ai accroché de suite à l'histoire si émouvante à certains passages, prenante, captivante, addictive, remplie d'intrigues, de suspens et de rebondissements avec des personnages très attachants.
My review :
I am a big fan of this series, I love the author's writing.
We find Lena who lives in a world where love is considered a disease. As soon as they come of age, young people are operated on the brain to be immune. When she comes of age, Lena asks herself questions about this famous protocol. Since her youngest age, love is suffering and danger.
Except that an encounter will change everything. Before everything was straight, organized. Should we really live rather than let society do everything for us? To choose our friends, our loves, our future too?
A book read in one go, so much so that I was immediately hooked on the story, so moving in certain passages, gripping, captivating, addictive, full of intrigue, suspense and twists and turns with very endearing characters.