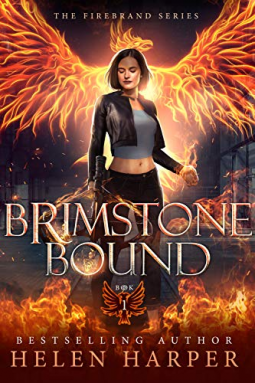 Prix or Price : 3,99€ en numérique (266 pages) et 11,59€ en broché
Éditeur ‏ : ‎

Helen Harper (3 septembre 2020)
Langue de lecture : Anglais
Note Amazon, Bookbub, Goodreads & Netgalley : 5*
Summary :
A werewolf killer. A paranormal murder. How many times can Emma Bellamy cheat death?

I'm one placement away from becoming a fully fledged London detective. It's bad enough that my last assignment before I qualify is with Supernatural Squad. But that's nothing compared to what happens next.

Brutally murdered by an unknown assailant, I wake up twelve hours later in the morgue – and I'm very much alive. I don't know how or why it happened. I don't know who killed me. All I know is that they might try again.

Werewolves are disappearing right, left and centre.

A mysterious vampire seems intent on following me everywhere I go.

And I have to solve my own vicious killing. Preferably before death comes for me again.
Résumé :
Un tueur de loup-garou. Un meurtre paranormal. Combien de fois Emma Bellamy peut-elle tromper la mort ?
Je suis à un placement près à devenir un détective londonien à part entière. C'est déjà assez grave que ma dernière mission avant d'être qualifiée soit avec la Supernatural Squad. Mais ce n'est rien comparé à ce qui se passe ensuite.
Brutalement assassiné par un agresseur inconnu, je me réveille douze heures plus tard à la morgue - et je suis bien vivant. Je ne sais pas comment ni pourquoi c'est arrivé. Je ne sais pas qui m'a tué. Tout ce que je sais, c'est qu'ils pourraient réessayer.
Les loups-garous disparaissent à droite, à gauche et au centre.
Un mystérieux vampire semble vouloir me suivre partout où je vais.
Et je dois résoudre mon propre meurtre vicieux. De préférence avant que la mort ne vienne à nouveau me chercher.
Ma chronique :
Je tiens à remercier l'auteure et le site Netgalley de m'avoir permis de lire ce livre.
On y retrouve Emma Bellamy qui échappe à la mort à chaque fois qu'elle croise un tueur de loup-garou ou tombe sur un meurtre paranormal.
Elle n'est pas loin de devenir une détective de Londres.
Sauf qu'elle est sauvagement assassinée et douze heures plus tard est à la morgue. Bien vivante en plus. Comment cela est il arrivé? Qui à fait ça? Mystère!!! Sauf qu'on pourrait tenter à nouveau de la tuer.
Entre des loup garou qui disparaissent, un vampire bizarre qui la suit partout où elle va, tenter d'en savoir plus sur son meurtre Emma doit se dépêcher avant que cela ne se reproduise.
Un livre lu d'une traite tellement j'adore la plume de l'auteure, j'ai accroché de suite à l'histoire si prenante, addictive, captivante, remplie d'intrigues de suspens et de rebondissements avec des personnages très attachants. Hâte de découvrir les autres livres.
My review :
I would like to thank the author and the Netgalley website for allowing me to read this book.
It finds Emma Bellamy escaping death every time she comes across a werewolf killer or stumbles upon a paranormal murder.
She is not far from becoming a London detective.
Except that she is brutally murdered and twelve hours later is in the morgue. And alive, too. How did it happen? Who did it? Mystery!!! Except that someone could try to kill her again.
Between werewolves disappearing, a strange vampire following her everywhere she goes, trying to find out more about her murder Emma must hurry before it happens again.
A book read in one sitting so much I love the author's writing, I was immediately hooked on the story so gripping, addictive, captivating, full of intrigue and suspense with very endearing characters. Can't wait to discover the other books.