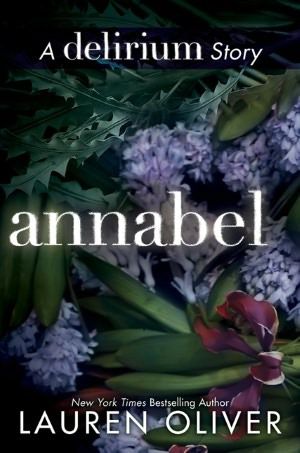 Nombre de pages : 41
Publié le 26 Décembre 2012 chez les éditions HarperCollins
Langue de lecture : Anglais
Nombre de livres dans la série : 3 et 4 nouvelles
Note Booknode : Liste de diamant
Note Amazon, Bookbub, Babelio, Goodreads : 5*
A few words about the author :
Lauren Oliver is the cofounder of media and content development company Glasstown Entertainment, where she serves as the president of production. She is also the New York Times bestselling author of the YA novels Replica, Vanishing Girls, Panic, and the Delirium trilogy: Delirium, Pandemonium, and Requiem, which have been translated into more than thirty languages. The film rights to both Replica and Lauren's bestselling first novel, Before I Fall, were acquired by AwesomenessTV; Before I Fall is now a major motion picture and opened in theaters March of 2017. The sequel to Replica, titled Ringer, is her most recent novel and was released October 3rd, 2017.

Her novels for middle grade readers include The Spindlers, Liesl & Po, and the Curiosity House series, co-written with H. C. Chester. She has written one novel for adults, Rooms.

A graduate of the University of Chicago and NYU's MFA program, Lauren Oliver divides her time between New York, Connecticut, and a variety of airport lounges. You can visit her online at www.laurenoliverbooks.com.
Quelques mots sur l'auteure :
Lauren Oliver est la cofondatrice de la société de développement de médias et de contenus Glasstown Entertainment, où elle occupe le poste de présidente de la production. Elle est également l'auteur à succès du New York Times des romans YA Replica, Vanishing Girls, Panic et de la trilogie Delirium : Delirium, Pandemonium et Requiem, qui ont été traduits dans plus de trente langues. Les droits cinématographiques de Replica et du premier roman à succès de Lauren, Before I Fall, ont été acquis par AwesomenessTV ; Before I Fall est désormais un film à grand spectacle et est sorti en salles en mars 2017. La suite de Replica, intitulée Ringer, est son roman le plus récent et est sortie le 3 octobre 2017.
Ses romans pour les lecteurs de niveau intermédiaire comprennent The Spindlers, Liesl & Po, et la série Curiosity House, coécrite avec H. C. Chester. Elle a écrit un roman pour adultes, Rooms.
Diplômée de l'université de Chicago et du programme MFA de l'université de New York, Lauren Oliver partage son temps entre New York, le Connecticut et divers salons d'aéroport. Vous pouvez la visiter en ligne à l'adresse www.laurenoliverbooks.com.
Summary :
Lena's mother, Annabel, has always been a mystery—a ghost in Lena's past. Until now.

Discover her secrets in Lauren Oliver's brilliant original digital story set in the world of New York Times bestsellers Delirium and Pandemonium.

Lena Halloway's mother, Annabel, supposedly committed suicide when Lena was only six years old. That's the lie that Lena grew up believing, but the truth is very different. As a rebellious teenager, Annabel ran away from home and straight into the man she knew she was destined to marry. The world was different then—the regulations not as stringent, the cure only a decade old. Fast forward to the present, and Annabel is consigned to a dirty prison cell, where she nurtures her hope of escape and scratches one word over and over into the walls: Love.

But Annabel, like Lena, is a fighter. Through chapters that alternate between her past and present, Annabel reveals the story behind her failed cures, her marriage, the births of her children, her imprisonment, and, ultimately, her daring escape.
Résumé :
La mère de Lena, Annabel, a toujours été un mystère - un fantôme dans le passé de Lena. Jusqu'à aujourd'hui.
Découvrez ses secrets dans la brillante histoire numérique originale de Lauren Oliver, qui se déroule dans l'univers des best-sellers du New York Times Delirium et Pandemonium.
La mère de Lena Halloway, Annabel, s'est soi-disant suicidée alors que Lena n'avait que six ans. C'est le mensonge auquel Lena a grandi en croyant, mais la vérité est bien différente. Adolescente rebelle, Annabel s'est enfuie de chez elle et a foncé sur l'homme qu'elle savait être destiné à épouser. Le monde était différent à l'époque - les règlements n'étaient pas aussi stricts, le traitement n'avait que dix ans. Aujourd'hui, Annabel est enfermée dans une cellule de prison sale, où elle nourrit l'espoir de s'évader et griffe un mot sur les murs, encore et encore : Amour.
Mais Annabel, comme Lena, est une battante. À travers des chapitres qui alternent entre son passé et son présent, Annabel révèle l'histoire de ses cures ratées, de son mariage, de la naissance de ses enfants, de son emprisonnement et, finalement, de son audacieuse évasion.
Ma chronique :
Depuis le temps que je voulais lire la série et voilà en plus j'adore la plume de l'auteure, c'est un vrai coup de cœur.
On y retrouve Lena pour qui sa mère Annabel est toujours un mystère, un fantôme dans la vie passée de Léna jusqu'à maintenant.
Annabel, la mère de Lena c'est suicidée lorsque Lena avait six ans. Lena à grandit dans le mensonge et dorénavant tout est bien différent. C'est une ado rebelle qui s'est enfuit de chez elle pour rejoindre un homme qu'elle voulait épouser. De nos jours Lena est en prison où elle espère pouvoir s'évader.
Comme sa mère elle se bat pour avoir une vie meilleure.
L'auteure nous entraine au fils des pages dans le passé, le présent de Lena avec ses cures ratées, son mariage, ses enfants, sa vie en prison et son évasion.
J'ai adoré cette première nouvelle, j'en ai appris plus sur le personnage de Lena et sa mère Annabel.
My review :
I've been wanting to read this series for a long time and now I love the author's writing, it's a real favorite.
We find Lena for whom her mother Annabel is still a mystery, a ghost in the past life of Lena until now.
Annabel, Lena's mother committed suicide when Lena was six years old. Lena grew up in a lie and now everything is different. She is a rebellious teenager who ran away from home to join a man she wanted to marry. Nowadays Lena is in prison where she hopes to escape.
Like her mother, she is fighting for a better life.
The author takes us through Lena's past and present with her failed cures, her marriage, her children, her life in prison and her escape.
I loved this first novella, I learned more about the character of Lena and her mother Annabel.