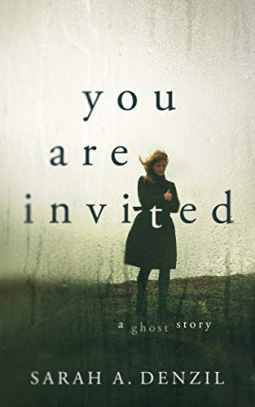 Prix or Price : 2,99€ en numérique (233 pages); 18,22€ en hardcover et 8,43€ en broché
Éditeur ‏ : ‎ Independently published (11 septembre 2020)
Langue de lecture : Anglais
Note Amazon, Bookbub, Netgalley & Goodreads : 4*
Summary :
When Cath receives her invitation to The Event--a monetised retreat for social media influencers--she can't believe her luck. Irene Jobert is the most famous influencer in the world, and now Cath will be one of the five participants chosen to stay with Irene in a renovated Transylvanian monastery.

The catch? Their every move will be live-streamed to millions of people around the world. Patrons pay for constant access to their favourite social media stars: Irene, the model; Nathan, the gamer; Jules, the blogger; Daniel, the fitness guru; and Cath, the writer.

Nestled halfway up a mountain, the five are isolated, with nothing but the internet to connect them to the world. That is,until eagle-eyed live-stream followers all around the globe notice a sixth participant. A dark figure lurking in the background.

They thought they were alone. Perhaps they were wrong.
Résumé :
Lorsque Cath reçoit son invitation à The Event - une retraite monétisée pour les influenceurs des médias sociaux - elle n'en croit pas ses yeux. Irène Jobert est l'influenceuse la plus célèbre du monde, et Cath sera l'une des cinq participants choisis pour séjourner avec Irène dans un monastère rénové de Transylvanie.
Le piège ? Tous leurs mouvements seront diffusés en direct à des millions de personnes dans le monde. Les mécènes paient pour avoir un accès permanent à leurs stars préférées des médias sociaux : Irène, le mannequin ; Nathan, le joueur ; Jules, le blogueur ; Daniel, le gourou du fitness ; et Cath, l'écrivain.
Nichés à mi-chemin d'une montagne, ces cinq-là sont isolés, avec rien d'autre qu'Internet pour les connecter au monde. Jusqu'à ce que des suiveurs de live-streaming aux yeux de lynx du monde entier remarquent un sixième participant. Une silhouette sombre se cachant dans le fond.
Ils pensaient qu'ils étaient seuls. Peut-être avaient-ils tort.
Ma chronique :
Je tiens à remercier l'auteure et le site Netgalley pour m'avoir permis de lire ce livre.
On y retrouve Cath qui est invitée à The Event un événement influencé par les réseaux sociaux elle n'en croit pas ses yeux. Elle va être aux côtés d'Irène Jobert l'influenceuse la plus connue. Elle va être l'une des cinq participante à loger dans un monastère rénové en Transylvanie.
Tout sera rediffuser en direct devant le monde entier. Ces cinq personnes n'auront rien d'autre qu'internet pour être connectés au monde entier. Sauf qu'une sixième personne bien cachée est dans les parages. Eux qui pensaient n'être que cinq, ils vont vite être servis.
Un livre lu d'une traite tellement j'ai accroché de suite à l'histoire si prenante, addictive, captivante, remplie d'intrigues, de suspens et de rebondissements avec des personnages très attachants. J'adore la plume de l'auteure.
My review :
I would like to thank the author and the Netgalley website for allowing me to read this book.
We find Cath who is invited to The Event an event influenced by social networks she can not believe her eyes. She will be alongside Irene Jobert the most famous influencer. She will be one of the five participants to stay in a renovated monastery in Transylvania.
Everything will be replayed live in front of the whole world. These five people will have nothing but the internet to connect to the world. Except that a sixth, well-hidden person is in the vicinity. They thought they were only five, but they will soon be served.
A book read in one go so much I was immediately hooked on the story so gripping, addictive, captivating, full of intrigue, suspense and twists with very endearing characters. I love the author's writing.