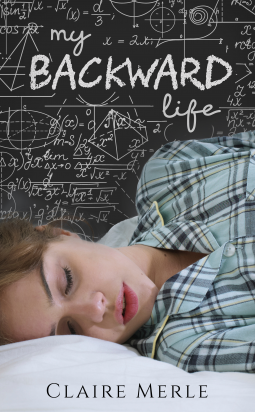 Prix or Price : 2,99€ en numérique (340 pages) et 11,59€ en broché
Éditeur :

Snow Horse Press (16 juillet 2020)
Langue de lecture : Anglais
Note Amazon, Bookbub, Goodreads & Netgalley : 5*
A few words about the author :
Claire Merle grew up in London and moved to the outskirts of Paris in her twenties. She is the author of four books for Young Adults, including the award-winning fantasy, Shadow Weaver.
Quelques mots sur l'auteure :
Claire Merle a grandi à Londres et s'est installée dans la banlieue de Paris à l'âge de vingt ans. Elle est l'auteur de quatre livres pour jeunes adultes, dont le roman fantastique primé Shadow Weaver.
Summary :
The last thing Louise Doors remembers is collapsing on her way home from a gig and a boy trying to save her life. Now, six days later, she's woken up. But she's not in the hospital, she's at home, and it seems her life has gone on without her, except everything is messed up. Her best friends hate her, she's hanging out with a girl she barely knows, and a boy called Dylan wants to meet up to give her a letter. As it turns out, Dylan isn't just any boy, either, he's the guy who tried to save her life.

Soon Louise will find out exactly what's been going on in her absence because those missing days are happening again, only in reverse. While each day brings surprising revelations about her family and her friends, Louise draws closer to Dylan, hoping he can help her get her proper life back. But she hadn't expected to fall in love, nor that these six days might be all she has left. After years of conforming to other people's expectations, Louise finally has the chance to be true to herself—but only if she can reach out and grab it.
Résumé :
La dernière chose dont Louise Doors se souvient, c'est qu'elle s'est effondrée sur le chemin du retour d'un concert et qu'un garçon a essayé de lui sauver la vie. Aujourd'hui, six jours plus tard, elle se réveille. Mais elle n'est pas à l'hôpital, elle est chez elle, et il semble que sa vie ait continué sans elle, sauf que tout est chamboulé. Ses meilleures amies la détestent, elle traîne avec une fille qu'elle connaît à peine, et un garçon appelé Dylan veut la rencontrer pour lui remettre une lettre. Il s'avère que Dylan n'est pas n'importe quel garçon, c'est celui qui a essayé de lui sauver la vie.
Bientôt, Louise va découvrir exactement ce qui s'est passé en son absence, car ces jours disparus se reproduisent, mais à l'envers. Alors que chaque jour apporte des révélations surprenantes sur sa famille et ses amis, Louise se rapproche de Dylan, espérant qu'il pourra l'aider à retrouver une vie normale. Mais elle ne s'attendait pas à tomber amoureuse, ni à ce que ces six jours soient tout ce qui lui reste. Après des années passées à se conformer aux attentes des autres, Louise a enfin la chance d'être fidèle à elle-même - mais seulement si elle peut tendre la main et la saisir.
Ma chronique :
Je tiens à remercier le site Netgalley et les éditions Snow Horse Press de m'avoir permis de lire ce livre.
J'ai de suite été attiré par la magnifique couverture de ce livre où l'on y voit Louise encore habillée couchée sur son lit.
Louise Doors ne ce souvient que d'une chose c'est de s'être écroulée en rentrant d'un concert et qu'un homme lui a sauver la vie. Sauf que c'est six jours plus tard elle se réveille chez elle et non à l'hôpital et que la vie à bien tournée depuis. Ses meilleures amies ne l'apprécient plus, elle traine avec une fille qu'elle ne connait pas et un garçon lui remet une lettre. Et Dylan est l'homme qui lui à sauver la vie.
Louise va se rendre contre de ce qu'il c'est passé pendant son absence car cela se reproduit mais à l'inverse cette fois. Chaque jours passés elle en apprend un peu plus sur sa famille et ses amis et elle se rapproche de plus en plus du fameux Dylan. Elle espère retrouver vite une vie normale et surtout n'espérait pas tomber amoureuse, elle va enfin pouvoir se faire confiance en elle même.
Un livre lu d'une traite tellement j'ai accroché à l'histoire si prenante, addictive, captivante, remplie d'intrigues de suspens et de rebondissements avec des personnages toujours aussi attachants.
My review :
I would like to thank the Netgalley website and Snow Horse Press for allowing me to read this book.
I was immediately attracted by the beautiful cover of this book where we see Louise still dressed on her bed.
The only thing Louise Doors remembers is that she collapsed on the way home from a concert and that a man saved her life. Except that six days later she woke up at home and not in the hospital and that life has turned out well since then. Her best friends don't like her anymore, she hangs out with a girl she doesn't know and a boy gives her a letter. And Dylan is the man who saved her life.
Louise is going to find out what happened while she was away because it's happening again, but this time in reverse. Each day that passes she learns a little more about her family and friends and she gets closer and closer to the famous Dylan. She hopes to find a normal life again soon and especially did not hope to fall in love, she will finally be able to trust herself.
A book read in one go so much I was hooked on the story so gripping, addictive, captivating, full of intrigue and suspense with characters always so endearing.