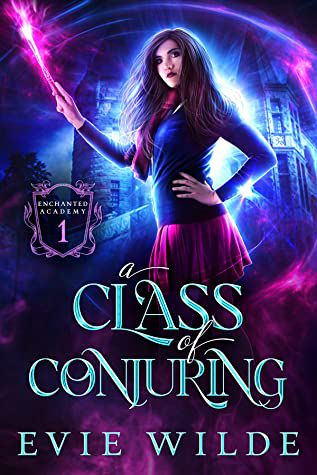 Prix or Price : 2,65€ en numérique (183 pages) et 14,76€ en broché
Éditeur : Wisteria Lane Press (13 février 2020)
Langue : Anglais
Note Amazon, Boosprout & Goodreads : 4*
A few words about the author :
Evie Wilde is the pen name for two authors who love all things paranormal. After spending hours discussing their favorite magical romances, they decided to write some together.

One attends law school, while the other is a work-at-home mom with a houseful of kids, but they both love sexy men with a gift for magic and making their mate's happiness their number one priority.
Quelques mots sur l'auteure :
Evie Wilde est le nom de plume de deux auteurs qui aiment tout ce qui est paranormal. Après avoir passé des heures à discuter de leurs romances magiques préférées, ils ont décidé d'en écrire quelques-unes ensemble.
L'une est étudiante en droit, l'autre est une mère au foyer avec une maison pleine d'enfants, mais elles aiment toutes deux les hommes sexy qui ont un don pour la magie et qui font du bonheur de leur compagne leur priorité numéro un.
Summary :
They say I'm a promising witch, but my magic is a disaster…

I wish I could keep my sorcery skills from running wild. Braeden and I are on a mission to take down a pack of demons, when one of my spells misfires and destroys the town's defense against the very monsters we were sent to protect them from.
That's when the fed-up guild banishes me to the Enchanted Academy. One last chance to salvage what's left of my career as a witch by honing my craft.

The coursework is challenging, but I can't help but be distracted by a brainy mage and a mysterious shifter. Not to mention the bad boy who's set his sights on me, or the fact that my relationship with my best friend is heating up.
But beyond the gated grounds, a power-hungry wizard is drawing near, intent on stealing magic. As the passion between me and my men grows, so do my powers.
Soon my friends and I will be the enemy's prime target, and the five of us will have to unite to defeat the rising evil.


A Class of Conjuring is the captivating first book in the Enchanted Academy paranormal romance reverse harem series. Fans of Avery Song and Eva Chase will love Evie Wilde's engaging tale.
Résumé :
Ils disent que je suis une sorcière prometteuse, mais ma magie est un désastre...
J'aimerais pouvoir empêcher mes talents de sorcière de se déchaîner. Braeden et moi sommes en mission pour abattre une meute de démons, quand un de mes sorts se déclenche mal et détruit la défense de la ville contre les monstres dont nous avons été envoyés pour les protéger.
C'est à ce moment que la guilde, qui en a assez, me bannit de l'Académie Enchantée. Une dernière chance de sauver ce qui reste de ma carrière de sorcière en perfectionnant mon art.
Le cours est difficile, mais je ne peux pas m'empêcher d'être distraite par un mage intelligent et un mystérieux métamorphe. Sans parler du mauvais garçon qui a jeté son dévolu sur moi, ou du fait que ma relation avec mon meilleur ami s'échauffe.
Mais au-delà de la barrière, un sorcier avide de pouvoir s'approche, avec l'intention de voler de la magie. La passion entre mes hommes et moi grandit, tout comme mes pouvoirs.
Bientôt, mes amis et moi serons la cible principale de l'ennemi, et nous devrons nous unir tous les cinq pour vaincre le mal qui monte.
Mon avis :
Ce livre est le premier de la série "Enchanted Academy". Ayant le livre quatre à lire avec le site booksprout, il me fallait lire les trois premiers avant.
On y retrouve Cassandra qui à ce que l'on dit est une sorcière prometteuse, mais que question magie, c'est un désastre.
Elle fait équipe avec Braeden pour chasser une meute de démons. Sauf qu'un des sorts de Cassandra se fait mal et cela détruit les sorts de protection de la ville. La guilde la bannit de l'académie enchantée, avec comme dernière chance, sauver sa carrière de sorcière. Ce qui va être difficile, car elle va rencontrer un mage métamorphe.
Un livre lu d'une traite tellement j'ai accroché de suite à l'histoire si captivante, addictive et remplie de suspens et de rebondissements avec des personnages attachants.
My mind :
This book is the first in the "Enchanted Academy" series. Having book four to read with the booksprout site, I had to read the first three before.
It features Cassandra, who is said to be a promising witch, but magic is a disaster.
She's teamed up with Braeden to hunt down a pack of demons. Except one of Cassandra's spells hurts herself, and it destroys the city's protection spells. The guild banishes her from the enchanted academy, with one last chance to save her witch career. Which is going to be difficult, because she's going to meet a shape-shifter mage.
A book read in one go, so much so that I immediately hooked on the story, so captivating, addictive and full of suspense and twists with endearing characters.