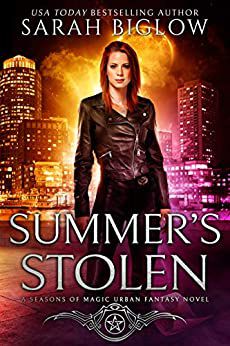 Prix or Price : 3,99€ en numérique (228 pages)
Expected publication: June 19th 2020 by Sarah Biglow
Langue : Anglais
Note Booknode : Liste d'or
Note Goodreads : 4*
Summary :
Averting the apocalypse was only the beginning.

Three months after saving the world, Detective Ezri Trenton is still finding the balance between her magical responsibility as the Savior and her duties as a cop. She's returned to the magical community and taken her place on the Authority's Council.

When young girls in the community go missing, Ezri doesn't hesitate to take the case, especially when one of the victims turns out to her partner Jacquie's niece. The investigation takes Ezri to the seedy underground magical scene and back into the orbit of the Order of Samael, the dark practitioners who nearly ended the world.

With only 48 hours before the kidnapping cases go cold, Ezri is forced to team with FBI Agent Cartwright. She isn't sure she can trust the agent, but she needs all the allies she can get when even the magical power boost of the Summer Solstice isn't enough to give her an edge over the enemy.

Scroll up and one-click to get your copy of the second book in the hot urban fantasy series fans of Ilona Andrews and Seanan McGuire find riveting!
Résumé :
Éviter l'apocalypse n'était que le début.

Trois mois après avoir sauvé le monde, le détective Ezri Trenton trouve toujours l'équilibre entre sa responsabilité magique de Sauveur et ses devoirs de flic. Elle a réintégré la communauté magique et a pris sa place au sein du Conseil de l'Autorité.

Lorsque des jeunes filles de la communauté disparaissent, Ezri n'hésite pas à prendre l'affaire en main, surtout lorsqu'une des victimes se révèle être la nièce de sa compagne Jacquie. L'enquête emmène Ezri sur la scène magique souterraine miteuse et la ramène dans l'orbite de l'Ordre de Samaël, les sombres pratiquants qui ont failli mettre fin au monde.

A seulement 48 heures de la fin des affaires d'enlèvement, Ezri est obligée de faire équipe avec l'agent du FBI Cartwright. Elle n'est pas sûre de pouvoir faire confiance à l'agent, mais elle a besoin de tous les alliés possibles lorsque même le coup de pouce du Solstice d'été ne suffit pas à lui donner un avantage sur l'ennemi.

Faites défiler l'écran et cliquez pour obtenir votre exemplaire du deuxième livre de la série de fantaisie urbaine d'Ilona Andrews et de Seanan McGuire, que les fans trouvent fascinant !
Mon avis :
Je tiens particulièrement à remercier l'auteure et le site Booksprout de m'avoir permis de lire ce livre.
Pour Ezri éviter l'Apocalypse n'était que le début.
Trois mois après les événement de "Spring's Calling" Ezri a enfin trouver l'équilibre entre être le Sauveur et sa vie de flic. Elle de nouveau au sein du conseil de l'Autorité à la communauté magique. Sauf que lorsque des jeunes filles de cette communauté disparaissent Ezri prend l'affaire en main. Une des victime se trouve être une de ses nièces. L'enquête entraine Ezri à l'ordre de Samael. Elle va devoir faire équipe avec le FBI l'agent Cartwright plus particulièrement. Mais peut-elle lui faire confiance?
Un livre lu d'une traite tellement j'ai accroché à l'histoire si captivante, addictive, remplie de suspens et de rebondissements avec des personnages toujours aussi attachants.
My mind :
I would especially like to thank the author and the Booksprout site for allowing me to read this book.
For Ezri avoiding the Apocalypse was just the beginning.
Three months after the events of "Spring's Calling" Ezri finally found the balance between being the Savior and his life as a cop. She's back on the board of the Magical Community Authority. Except when girls from that community go missing, Ezri takes matters into her own hands. One of the victims happens to be one of his nieces. The investigation leads Ezri to Samael's order. She's gonna have to team up with the FBI, Agent Cartwright specifically. But can she trust him?
A book read in one go, so much so that I hooked on the story, so captivating, addictive, full of suspense and twists and turns with characters who are still as endearing as ever.