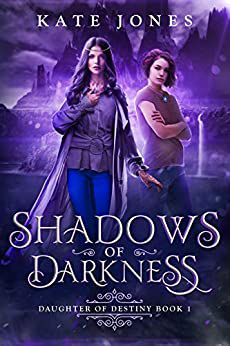 Prix or Price : 2,99€ en numérique (333 pages) et 10,70€ en broché
Éditeur : Independently published (28 janvier 2020)
Collection : Daughter of Destiny
Langue : Anglais
Note Amazon, Booksprout & Goodreads : 4*
Note Booknode : Liste d'or
Summary :
Charley wants to avoid the school bullies, but destiny has other plans. Plans that are likely to get her killed.When Charley loses everything to the forces of the Dark Master, she has no choice but to follow Violet into a strange world and a life that is as far removed from "normal" as it can get.In order for the light to be restored to Elorysia, they must defeat Moloch, the Dark Master, but unless Charley learns to believe in magic, and in herself, she will never fulfil her destiny and restore the balance of Dark and Light.All she has are her father's crystal, Violet's belief in her, the words of an ancient prophecy and her heritage. Whether that will be enough seems doubtful, but destiny cannot be ignored, and Charley has no choice but to try. The world depends on it.Put Hermione Granger on a journey of self-discovery to Mordor via Narnia, and you have Shadows of Darkness, the start of an epic fantasy adventure by author Kate Jones!Scroll up and one-click to get your copy today.
Résumé :
Charley veut éviter les brutes de l'école, mais le destin a d'autres plans. Lorsque Charley perd tout face aux forces du Maître des Ténèbres, elle n'a d'autre choix que de suivre Violet dans un monde étrange et une vie aussi éloignée de la "normale" que possible. Pour que la lumière revienne à Elorysia, ils doivent vaincre Moloch, le Maître des Ténèbres, mais à moins que Charley n'apprenne à croire en la magie et en elle-même, elle ne pourra jamais accomplir son destin et rétablir l'équilibre entre l'obscurité et la lumière. Tout ce qu'elle a, c'est le cristal de son père, la foi de Violet en elle, les paroles d'une ancienne prophétie et son héritage. On peut douter que cela suffise, mais le destin ne peut être ignoré et Charley n'a pas d'autre choix que d'essayer. Mettez Hermione Granger dans un voyage de découverte de soi à Mordor via Narnia, et vous obtenez Shadows of Darkness, le début d'une aventure épique de l'auteur Kate Jones !
Mon avis :
Je tiens particulièrement à remercier l'auteure et le site booksprout sans qui je n'aurais jamais pu lire ce livre.
J'ai de suite été attiré par la magnifique couverture de ce livre. On y voit Charley et Violet.
La belle Charley veux éviter à tout prix ses camarades d'école. Mais elle va devoir faire face au fameux maître des ténèbres et elle va devoir suivre Violet dans un autre monde. Pour que tout redevienne comme avant sur Elorysia elles vont devoir vaincre Moloch et comme Charley ne crois pas du tout en la magie pour le vaincre, elle ne pourra pas rétablir ce fameux équilibre entre l'obscurité et la lumière. Elle possède un cristal qui appartient à son père, la foi de Violet en elle et des dires selon une prophétie et un héritage. Cela va t'il suffire à vaincre ce fameux Moloch.
Un premier livre lu d'une traite tellement j'ai accroché à l'histoire si émouvante, captivante, addictive, remplie de suspens et de rebondissements avec des personnages attachants. Hâte de lire la deuxième partie.
My mind :
I would especially like to thank the author and the website booksprout without whom I would never have been able to read this book.
I was immediately attracted by the beautiful cover of this book. It shows Charley and Violet.
The beautiful Charley wants to avoid her schoolmates at all costs. But she will have to face the notorious master of darkness, and she will have to follow Violet into another world. In order for everything to return to normal on Elorysia they will have to defeat Moloch and since Charley doesn't believe in magic at all to defeat him, she won't be able to restore the famous balance between darkness and light. She possesses a crystal that belongs to her father, Violet's faith in her, and claims according to a prophecy and an inheritance. Will it be enough to defeat the famous Moloch?
A first book read in one go, so much so that I hooked on to the story, so moving, captivating, addictive, full of suspense and twists and turns with endearing characters. Can't wait to read the second book.