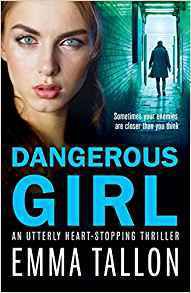 Prix or Price : 2,99€ en numérique (325 pages) et 10,13€ en broché
Editeur : Bookouture (20 août 2018)
Langue : Anglais
Note Amazon, Goodreads & Netgalley : 4*
Note Booknode : Liste d'or
Summary :
If you love Martina Cole, Kimberley Chambers, Casey Kelleher and Jessie Keane, you'll love Dangerous Girl.

Sometimes your enemies are closer than you think

Anna is finally happy. She's rid of her abusive ex and she's co-owner of London's hottest new club, with her best friend Tanya. But she is worried about her boyfriend, Freddie. He's keeping things from her. And he won't tell her where he goes in the middle of the night.

Freddie is furious. A girl has gone missing from one of his clubs and the police are all over him. When a familiar face turns up and threatens him, he's offered a deal – find the girl or Anna will be killed.

With time running out, Freddie risks everything to save Anna's life. And if there's one thing Freddie Tyler is known for, it's that he never gives up. Not without a fight…
Résumé :
Si vous aimez Martina Cole, Kimberley Chambers, Casey Kelleher et Jessie Keane, vous aimerez Dangerous Girl.
Parfois, vos ennemis sont plus proches que vous ne le pensez.
Anna est enfin heureuse. Elle s'est débarrassée de son ex abusif et elle est copropriétaire du nouveau club le plus populaire de Londres, avec sa meilleure amie Tanya. Mais elle s'inquiète pour son petit ami, Freddie. Il lui cache des choses. Et il ne veut pas lui dire où il va au milieu de la nuit.
Freddie est furieux. Une fille a disparu d'un de ses clubs et la police est sur lui. Lorsqu'un visage familier apparaît et le menace, on lui propose un marché - trouvez la fille ou Anna sera tuée.
Avec le temps qui passe, Freddie risque tout pour sauver la vie d'Anna. Et s'il y a une chose pour laquelle Freddie Tyler est connu, c'est qu'il n'abandonne jamais. Pas sans combattre....
Mon avis :
Je tiens à remercier les éditions Bookouture et le site Netgalley pour ce partenariat.
J'ai de suite été attiré par la couverture, on y voit la belle Anna qui est enfin heureuse. Son ex, elle l'a quitté, sauf que son nouveau petit ami lui cache des choses, il ne lui dis même pas où il va la nuit. Quant à lui, il doit retrouver un fille qui a disparu ou Anna sera tuée.
Un livre lu quasi d'une traite que j'ai adoré avec une histoire captivante et remplie de suspens et rebondissements. Hâte de lire d'autres livres de cette auteure.
My mind :
I would like to thank Bookouture Publishing and the Netgalley website for this partnership.
I was immediately attracted by the blanket, you can see the beautiful Anna who is finally happy. Her ex, she left him, except that her new boyfriend is hiding things from her, he doesn't even tell her where he goes at night. As for him, he must find a girl who has disappeared or Anna will be killed.
A book read almost in one go that I loved with a captivating story full of suspense and twists and turns. Looking forward to reading more of this author's books.