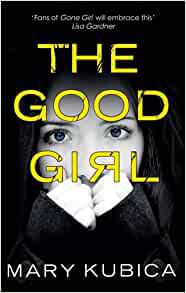 Prix or Price : 3,94€ en numérique; 30,61€ en relié et 12,14€ en broché
Éditeur ‏ : ‎ Mira (1 août 2014)
Langue de lecture : Anglais
Note Booknode : Liste de diamant
Note Amazon, Babelio, Bookbub, Goodreads : 5*
Summary :
I've been following her for the past few days. I know where she buys her groceries, where she works. I don't know the color of her eyes or what they look like when she's scared. But I will.

One night, Mia Dennett enters a bar to meet her on-again, off-again boyfriend. But when he doesn't show, she unwisely leaves with an enigmatic stranger. At first Colin Thatcher seems like a safe one-night stand. But following Colin home will turn out to be the worst mistake of Mia's life.

When Colin decides to hide Mia in a secluded cabin in rural Minnesota instead of delivering her to his employers, Mia's mother, Eve, and detective Gabe Hoffman will stop at nothing to find them. But no one could have predicted the emotional entanglements that eventually cause this family's world to shatter.
Résumé :
Parfois, les apparences peuvent être trompeuses.
« Je la suis depuis plusieurs jours. Je sais où elle fait ses courses, où elle travaille. Je ne connais pas la couleur de ses yeux ni comment est son regard quand elle a peur. Mais je le saurai bientôt. »
Incapable de dire non au séduisant et énigmatique inconnu qu'elle vient de rencontrer dans un bar, Mia Dennett accepte de le suivre jusqu'à chez lui. Sans savoir qu'elle vient de commettre une grave erreur. Et que rien, jamais, ne sera plus comme avant. Suspense psychologique envoûtant, Une fille parfaite possède une écriture affûtée, nerveuse, qui sait faire naître peu à peu une émotion bouleversante. Dans ce récit à trois voix, les apparences sont trompeuses, jusqu'à la révélation finale : un uppercut en plein cœur.
Vous n'oublierez pas Une fille parfaite. Vous n'oublierez pas Mia.
Ma chronique :
Depuis le temps que je voulais lire ce livre, voilà qui est fait. J'adore la plume de l'auteure si addictive.
On y retrouve Mia qui est suivit depuis plusieurs jours de ses courses à son travail par un mystérieux inconnu. Elle va finir par le rencontrer dans un bar et le suivre jusqu'à chez lui sans penser du tout qu'elle commettra une grave erreur et que jamais plus rien ne sera comme avant dans sa vie.
Un livre lu d'une traite tellement j'ai accroché à l'histoire si émouvante à certains passages, prenante, captivante, addictive, remplie d'intrigues, de suspens et de rebondissements avec des personnages très attachants. Hâte de découvrir d'autres livres de cette auteure.
My review :
I have been wanting to read this book for so long, and now I have. I love the author's pen so addictive.
We find Mia who is followed for several days from her shopping to her work by a mysterious stranger. She will end up meeting him in a bar and follow him home without thinking at all that she will make a big mistake and that nothing will ever be the same again in her life.
A book read in one go so much I was hooked on the story so moving in some passages, gripping, captivating, addictive, full of intrigue, suspense and twists with very endearing characters. I can't wait to discover other books by this author.