It's sunday : my second in my mailbox
Coucou les abonnées et abbonés dans cette in my mailbox, je vous fais part de mes réceptions de livres et ebook de la semaine
Les yeux du vide
by Elodie Loisel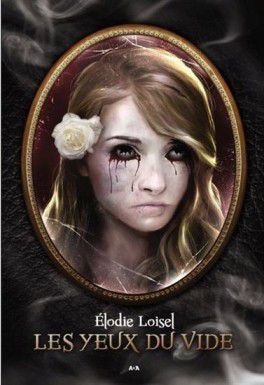 Prix : 15,99€ en broché (442 pages) et en ebook 12,99€
Editeur : AdA (3 janvier 2017)
Langue : Français
Résumé :
Le 21 octobre 2014 à 15H55, le corps de Lucie Morin, âgée de 16 ans, est retrouvé dans le Saint- Laurent non loin de Montréal. Dans la nuit du 21 au 22 octobre 2014, Cassy Kérié, jeune diplômée en médecine, célibataire de 27 ans voit sa vie bousculer lorsqu'elle est kidnappée et séquestrée dans un lieu nommé Silver Creek, un chalet de pêche dans le nord du Québec. Elle réussit à s'échapper. Lors de sa déposition, la jeune femme apprend que la maison où elle était retenue prisonnière a été détruite deux ans plus tôt par un incendie. D'un esprit rationnel, Cassy va être confrontée à des forces surnaturelles qui la dépassent quand elle s'aperçoit que Silver Creek a été la scène de crimes effroyables et sordides où cinq adolescentes ont perdu la vie. Déterminée à résoudre l'enquête, elle va devenir la proie d'une machination meurtrière. Et découvrir à ses dépends qu'il vaut mieux parfois laisser enterrer les secrets de famille. Cassy est-elle réellement sortie indemne de cette nuit traumatisante ? A-t-elle établi un lien avec le tueur défunt ? « Les yeux du vide » est un thriller psychologique qui allie à fortes doses suspens et paranormal.
Summary :
October 21, 2014, at 03:55 pm, the body of Lucie Morin, aged 16, is found in the St. Lawrence River near Montreal. In the night from 21 to 22 October 2014, Cassy Kerie, young graduate in medicine, single 27-year-old sees his life pushed around when she is kidnapped and held in a place called Silver Creek, a Northern Quebec fishing lodge. She managed to escape. During his testimony, the young woman learns that the House where she was being held prisoner was destroyed two years earlier by a fire. A rational mind, Cassy will be faced with supernatural forces that exceed when she discovers that Silver Creek has been the scene of appalling and sordid crimes where five teenage girls were killed. Determined to solve the case, she will become the prey of a murderous conspiracy. And discover at its expense that is sometimes better left buried family secrets. Is Cassy truly unscathed from that traumatic night? She developed a relationship with the deceased killer? "Empty eyes" is a psychological thriller that combines with high doses of suspense and paranormal.
Chasing I do
(The Eastons #1) by Marina Adair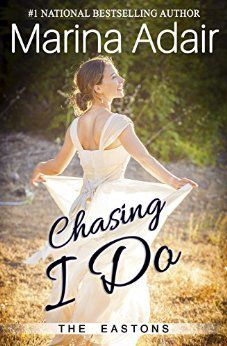 Prix : format kindle gratuit, en broché à 5,64€
Broché: 170 pages
Editeur : Adair Group, The (7 juin 2016)
Collection : The Eastons
Langue : Anglais
Summary :
Darcy Kincaid might be a runaway bride, but she still believes in happily ever after, which is why she's devoted to helping couples orchestrate their perfect I do. Even though her fiancée turned out to be unfaithful and a big disappointment, Darcy walked away from her wedding fully committed—to her unborn daughter. Now, a single mom, it's up to Darcy to secure her daughter's future, which is why she's invested her life savings into renovating Belle Mont Manor, Portland's oldest, and nearly forgotten, wedding venue. So when Wedding Magazine offers her the cover for their June issue, in exchange for planning the wedding of a high-profile couple, Darcy thanks her lucky stars. Until the star's best man turns out to be her ex's brother… The last time Gage Easton saw Darcy, she was sneaking out the back door of her own wedding—destroying his brother's life. No way is he going to entrust the gorgeous jilter with his biggest client's special day, no matter how much in love with her he secretly was. Determined to take his client's wedding elsewhere, he confronts Darcy, only to meet a toddler with Darcy's blonde curls and the Easton blue eyes that has him renegotiating—the wedding for a chance to know his niece. But when a fun day in the park leads to warm family dinners, Gage finds himself stuck between his loyalty to his brother—and the two women who have stolen his heart.
Résumé :
Darcy Kincaid pourrait être une mariée conquise, mais elle croit encore au bonheur, c'est pourquoi elle se consacre à aider les couples à orchestrer ce qui est bon pour eux. Même si sa fiancée s'est avéré être infidèle et une grosse déception, Darcy a quitté son mariage pleinement engagé — à sa fille qui va naître. Maintenant mère célibataire, c'est à Darcy d'assurer l'avenir de sa fille, c'est pourquoi elle a investi ses économies d'une vie en rénovant Belle Mont Manor, lieu de mariage plus vieux et presque oubliés, de Portland. Alors quand mariage Magazine lui offre la couverture de son numéro de juin, en échange de la planification du mariage d'un couple de grande envergure, Darcy remercie sa bonne étoile. Jusqu'à ce que le meilleur homme de l'étoile s'avère être son ex frère ... La dernière fois que Gage Easton a vu Darcy, elle a été se faufiler par la porte arrière de son propre mariage, détruisant la vie de son frère. Hors de question, il va confier a jilter sa magnifique journée a son plus gros client, peu importe combien en amour cela va la peiné. Déterminé à prendre son client autre part, il confronte Darcy, seulement pour rencontrer un bambin avec les boucles blondes de Darcy et les yeux bleux de Easton qui va renégocier — le mariage pour avoir une chance de connaître sa nièce. Mais quand une bonne journée dans le parc mène pour réchauffer les repas de famille, Gage se retrouve coincé entre sa loyauté envers son frère — et les deux femmes qui ont volé son coeur.
Goddess : a rune book
by Ednah Walter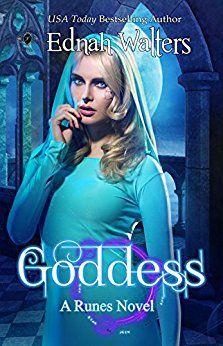 Prix : ebook 4,70€ en broché 12,71€
Broché: 312 pages
Editeur : Firetrail Publishing; Édition : 1 (13 février 2017)
Collection : Runes
Langue : Anglais
Summary :
The conclusion of an epic love story between an extraordinary girl and a soul reaper. Cora Jemison has come a long way from her stint in a psych ward and her fear of the dead. A confident Medium, she allows souls to possess her to help them find closure. When she decides to tell her parents the truth, that she still sees the dead and that her fiancé is a soul reaper, the Jemisons reveal secrets of their own. Her world starts to crumble, the ripple effect threatening to destroy the one thing she can always count on. Her relationship with Echo. Cora must sort through the lies to learn the truth about who and what she is. Only then can she embrace her destiny and claim her soul mate, Echo.
Résumé :
La conclusion d'une histoire d'amour épique entre une fille extraordinaire et un faucheur d'âme. Cora Jemison a parcouru un long chemin depuis son passage dans une psych ward et sa peur de la mort. Etant medium, elle permet aux âmes possédées de les aider à trouver la lumière. Quand elle décide de dire la vérité à ses parents, qu'elle voit encore les morts et que son fiancé est un faucheur d'âme, les Jemisons dévoilent leurs propres secrets . Son monde commence à s'effriter, menaçant de détruire la seule chose sur qui elle peut toujours compter : l'effet d'entraînement. Sa relation avec Echo. Cora doit trier les mensonges et connaître la vérité sur qui et ce qu'elle est. Alors seulement, est-ce qu'elle peut embrasser son destin et réclamer son âme sœur, Echo.
Don't look back
by Jennifer L.Armentrout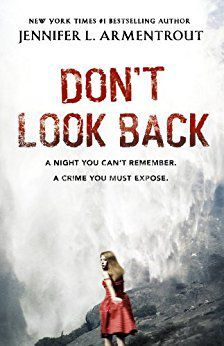 Prix : ebook à 5,49€, en relié 16,84€ et en broché 9,53€
Broché: 384 pages
Editeur : Disney-Hyperion (17 mars 2015)
Collection : Don't Look Back
Langue : Anglais
Summary :
Samantha Franco has the perfect life. Until, that is, she and her best friend Cassie disappear and only Samantha resurfaces... with no knowledge of what happened.
And Cassie stays missing. Gradually, Samantha begins to piece together her memories of that night. If she can do so, she may yet be able to save her friend. And, little by little, something begins to emerge...
Then she gets the note :
Don't look back.
You won't like what you find.
Résumé :
Samantha Franco a une vie parfaite. Jusqu'à ce que, autrement dit, elle et sa meilleure amie Cassie disparaissent et seulement Samantha refait surface... n'ayant aucune connaissance de ce qui s'est passé.
Et Cassie reste portée disparue. Peu à peu, Samantha commence à rassembler ses souvenirs de cette nuit. Si elle peut le faire, elle peut encore être capable de sauver son amie. Et, peu à peu, quelque chose commence à émerger...
Elle reçoit ensuite ce mot :
Ne te retourne pas.
Tu ne vas pas aimer ce que tu va trouver
Chosen at Nightfall
(Shadows Falls #5) by C.C Hunter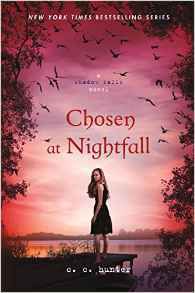 Prix : en ebook à 6,95€ en broché à 7,32€
Broché: 400 pages
Editeur : Saint Martin's Griffin,U.S. (14 mai 2013)
Langue : Anglais
Summary :
Don't miss this magnificent final chapter in the breathtaking Shadow Falls series! Kylie's epic journey is about to lead her exactly where she belongs...When Kylie Galen entered Shadow Falls Camp, she left her old life behind forever and discovered a world more magical than she ever imagined. A place where you're two best friends can be a witch and a vampire...and where love doesn't happen the way you'd expect. When Kylie's most powerful enemy returns to destroy her once and for all, there's only one way to stop him--to step into her full powers and make a stunning transformation that will amaze everyone around her. But her journey won't be complete until she makes one final choice...which guy to love. Should she choose to the werewolf who broke her heart but will give anything to win her back, or the half-fae who ran from their attraction before they had a chance? Everything she's learned at Shadow Falls has been preparing her for this moment--when her fate will be revealed and her heart claimed forever.From author C. C. Hunter comes Chosen at Nightfall, the final book in the New York Times bestselling Shadow Falls series about a camp for paranormal teens.
Résumé :
Coupée de Shadow Falls et de ses amis, Kylie découvre enfin l'étendue de ses dons surnaturels et la communauté des caméléons à laquelle elle appartient. Mais la jeune fille est menacée par le retour de Mario, son plus maléfique adversaire, et n'a qu'une solution : rentrer au centre pour trouver des alliés. Elle va alors devoir affronter les plus grands dangers... et faire un ultime choix entre les deux hommes qu'elle aime.
Eternal
(Shadow Falls : After Dark #2)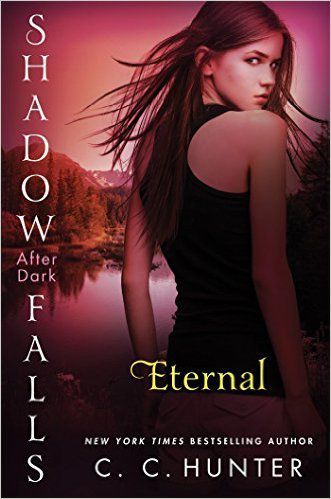 Prix : en ebook à 7,27€, en relié : 19,94€ et en broché à 8,34€
Broché: 400 pages
Editeur : St Martin's Press (10 novembre 2014)
Langue : Anglais
Summary :
Just when Della feels like She's starting to figure out her life, she finds herself reborn... and her new existence comes with a whole different rulebook.
Della's secret powers always made her feel like an outsider in the human world. Now, just when she's starting to feel like she belongs - at Shadow Falls, a camp for teens with paranormal powers - her life is turned upside down all over again. attacked by a deadly virus, she must make the difficult choice to be reborn. It's her only chance at survival, but it comes with a price : It irreparably bonds her to Chase, a tall, dark, and mesmerizing vampire who makes her laugh one minute and infuriates het the next.
Chase already knows too many of Della's secrets, and being eternally bonded to him is the last thing she wants. Even worse, she doesn't fully understand what their bond means. Is the attraction she's started feeling for Chase real - or does fate have something else in store? And what does that mean for Steve, the hot Shape-shifter whose kisses make her weak in the knees?
Now Della's battered heart is about to take another hit. While investigating her latest case, she discovers shocking evidence about her father's dark past, making her question everything she believes to be true... and her place in the world she loves.
Résumé :
Della Tsang a survécu à sa deuxième métamorphose vampirique, un phénomène extrêmement rare. Elle est désormais plus forte, plus rapide, plus puissante. Mais cette renaissance a un prix : elle la lie pour toujours à Chase, le vampire qui l'a sauvée, troublant davantage ses sentiments pour Steve, le métamorphe. Plus déconcertant encore : alors qu'elle mène une enquête, elle découvre des éléments dérangeants sur son passé, la faisant douter de tout ce qu'elle a toujours cru vrai...
Almost Midnight :
(Shadow Falls : After Dark # 3,5) by C.C Hunter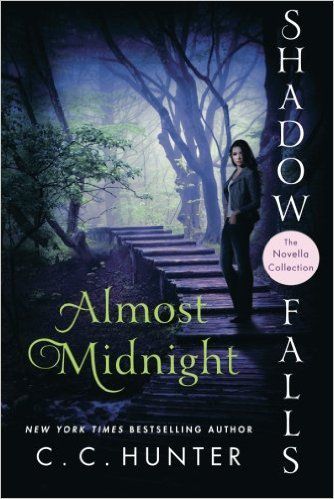 Prix : en ebook 7,19€ et broché 7,57€ (304 pages)
Editeur : Saint Martin's Griffin,U.S. (2 février 2016)
Langue : Anglais
Summary :
Novella Collection

Nestled deep in the woods, Shadow Falls is a secret camp where teens with supernatural powers learn to harness their abilities and live in the normal world.

Independent and strong-willed Della Tsang did not believe in vampires...until she became one. Chase Tallman is the newest member of Shadow Falls, but what made him into the sexy, mysterious vampire he is today? And what led him to Della Tsang? And for Miranda Kane, magic has always been something she's struggled with, but when an opportunity to test her powers takes her to Paris, she'll have to prove that she's a witch to be reckoned with and belongs at Shadow Falls.

Fans won't want to miss these four remarkable stories of love, magic and friendship
Résumé :
Niché dans les bois, Shadow Falls est un camp secret où les ados dotés de pouvoirs surnaturels apprennent à tirer parti de leurs capacités et vivre dans le monde normal.
Indépendante et volontaire Della Tsang ne croyaient pas aux vampires... jusqu'à ce qu'elle en devienne un. Tallman Chase est le dernier-né de Shadow Falls, mais ce qui fait de lui dans le vampire sexy, mystérieux, qu'il est aujourd'hui ? Et ce qui l'a amené à Della Tsang ? Et pour Miranda Kane, magie a toujours été quelque chose qu'elle a eu du mal a comprendre, mais quand l'occasion de tester ses pouvoirs l'emmène à Paris, elle devra prouver qu'elle est une sorcière à ne pas sous-estimer et qu'il appartient aux chutes de l'ombre.
Les fans ne voudront pas manquer ces quatre histoires remarquables d'amour, de magie et d'amitié.
Midnight Hour
(Shadow Falls : After Dark # 4) by C.C Hunter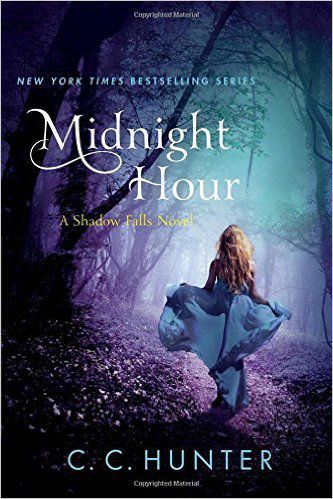 Prix : en ebook 8,01€ et 10,09€ en broché (416 pages)
Editeur : St Martin's Press (28 octobre 2016)
Langue : Anglais
Summary :
Being a dyslexic witch is a curse in itself, but Miranda Kane's time at Shadow Falls has helped her harness her magical powers. Now, just as she's finally mastered them and is preparing to graduate with her friends, a near-death experience threatens to ruin it all.

Miranda awakens in the hospital with a mysterious tattoo that no one can explain. As she struggles to make sense of it—and questions her feelings for a certain irresistible shape-shifter and a hot new guy—the strange markings begin to spread all over her body, leaving her desperate to find answers. But before she can solve that problem, a new one arises: her sister is missing.

Has her sister been kidnapped? Miranda will risk her life to find out. Will she live to share the day she's worked so hard for with her friends? When the clock strikes midnight, will Miranda make it to her graduation at Shadow Falls?
Résumé :
Être une sorcière dyslexique est une malédiction en soi, mais le temps de Miranda Kane à Shadow Falls a contribué à son harnais de ses pouvoirs magiques. Maintenant, comme elle a enfin maîtrisé ceux-ci elle se prépare à sortir avec ses amis, une expérience de mort imminente menace de ruiner tout cela.
Miranda se réveille à l'hôpital avec un tatouage mystérieux que personne ne peut expliquer. Comme elle se démène pour en donner un sens — et s'interroge sur ses sentiments pour certain un shape-shifter irrésistible et un mec canon — les inscriptions étranges commencent à se propager partout dans son corps, la laissant désespérée pour trouver des réponses. Mais peut-elle résoudre ce problème, une nouvelle question se pose : sa sœur a disparue.
Sa soeur a été enlevée ? Miranda risque sa vie pour la retrouver. Elle vivra entre partager le jour a travailler dur pour ses amis ? Lorsque l'horloge sonne minuit, Miranda aura l'obtention de son diplôme à Shadow Falls ?
Partager cet article
Pour être informé des derniers articles, inscrivez vous :