Breaking #3 : Breaking ties : Tracy Puckett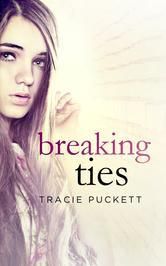 Résumé
Breaking up is hard to do, and it seems that the Parkers are learning that lesson the hard way. Mandy has broken her official tie to the Raddick Initiative, Bailey's declared war on her friends and family, and even their father is amidst an emotional crisis. And when a ghost from their past suddenly comes calling, both of the sisters must face the emotions, questions, and truths they've kept buried for so long.
Mandy knows that forgiveness and redemption are the keys to moving forward and living a happy life, but she struggles with letting go of the pain she's carried for four long years. Jones, Georgia, and Fletcher offer a distraction. Gabe is desperate to help. But Mandy insists on deflecting, knowing all along that she can't avoid the real issue forever; she has to decide once and for all: can she finally find the courage to let go of her past, or is she doomed to live the rest of her life with an unforgiving heart?
My mind :
In this last book from the trilogie breaking, Mandy and Gabe are always here, she left the Raddick Initiative, so break the rules. A ghost from the past sisters gonna be comes calling. I do not appreciate this last book.
Mon avis :
Dans ce dernier tome de cette trilogie, on y retrouve Mandy et Gabe qui sont toujours ensemble. Elle va quitter la Raddick Initiative et briser les règles qu'on lui avait inculquées. Un fantôme du passé des deux sœur va resurgir et tout chambouler. Je n'ai pas particulièrement aimé ce dernier tome, j'ai préféré les deux précédents.
Partager cet article